Best RN to BSN Online Programs in Wyoming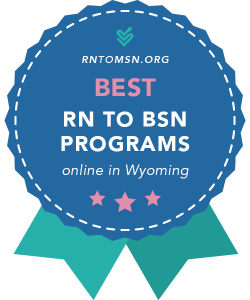 1. University of Wyoming
Program: Online RN-BSN
RN to BSN Credits: 30
Length: 3 Semesters or More
Accepts Out-of-State RNs: Yes
UW's 100% Online RN-BSN is the only one in the state, so it's invariably going to be your best option! Having said that, this degree is incredibly affordable for WY residents and very convenient. The Fay Whitney School of Nursing has come up with a program that includes 8-week classes in half-semester increments, useful practice experiences in your local community, and a concept-based curriculum. It also offers a number of School of Nursing Scholarships (e.g. Blue Cross Blue Shield of Wyoming BSN Completion Scholarship) and an accelerated community college pathway through the ReNEW Program.
Cheapest RN to BSN Online Programs in Wyoming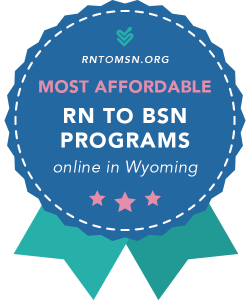 We're pleased to report that UW qualified for our Cheapest WY rankings with room to spare. You'll also see it appear in our list of the Most Affordable Online RN to BSN Programs in the country.
1. University of Wyoming
Tuition for UW's 100% Online RN-BSN is super-low for Wyoming students and UW alumni. In our calculations, we considered the standard tuition rates and the mandatory per credit online fees. Indirect, one-off costs may include things like books and supplies. One thing to note—although Online RN to BSN coursework is 27 credits, students must earn a minimum of 30 upper division credit hours from UW.
Fastest Online RN to BSN Programs in Wyoming
To appear in our Fastest state rankings, schools must offer programs that take less than 1 year/3 semesters on a full-time schedule. That excludes UW's offering, which usually takes 3 semesters or more. For alternatives, check out the 2-semester and self-paced options in our rankings of the Fastest Online RN to BSN Programs in the country.
RN to BSN Scholarships in Wyoming
Statewide Scholarships for Wyoming RN to BSN Students
Wyoming Nursing Organization Scholarships
Northwest Region of the Wyoming Nurses Association Scholarships are open to all Wyoming Nurses Association (WNA) members. Check the News & Announcements section for details on scholarship applications.
Wyoming Healthcare System & University Partnerships
Do you work for a Wyoming hospital or regional healthcare system? Be sure to talk to your HR representative about your plans. As an employee, you may be eligible for all kinds of perks (e.g. Wyoming Medical Center Employee Benefits). You may also qualify for tuition discounts or tuition waivers in neighboring states.
In some cases, Wyoming hospitals even offer their own awards to employees and local residents. Check out the Sheridan Memorial Hospital Scholarships.
Wyoming Community Foundation Scholarships
University Scholarships for Wyoming RN to BSN Students
University of Wyoming
RN to BSN Requirements in Wyoming
RN Licensure: Online RN to BSN degrees are classified as "post-licensure" programs. Wyoming universities will expect you to have—or be in the process of earning—an RN license. At UW, all Online RN-BSN applicants are required to hold an unencumbered RN license.
State Authorization: Do you live outside of Wyoming? Double-check that you're eligible to apply for UW's program. We should also mention that out-of-state tuition rates at UW are going to be much higher for non-residents.
Frequently Asked Questions
Are 100% Online RN to BSN Programs in Wyoming Available?
Yes. UW's Online RN-BSN is 100% online, with no campus requirements. Just keep in mind that you will still have to complete on-the-ground practicums in your local community.
Can I Choose a "No Clinicals" Online RN to BSN in Wyoming?
Not really. CCNE-accredited Online RN to BSN programs almost always include practicums in community health & nursing leadership. For instance, UW's 100% Online RN-BSN includes practice experiences in 3 courses:
Community as Client: Based on a community assessment, you'll create an evidence

–

based,

goal

–

directed action plan th

at includes interprofessional collaboration.

Leading Nursing Practice: Y

ou'll collaborate with stakeholders to present or execute an applied leadership project in a relevant se

tting.

Innovation in Nursing Practice: With faculty guidance, you'll create a theory

–

and evidence

–

based

plan for a healthcare policy or process change.
Do I Need Statistics to Apply for a Wyoming Online RN to BSN?
Yes. UW's Online RN-BSN lists statistics as a General Education requirement. If you don't have stats on your transcript, ask the RN to BSN program coordinator if you can complete it as a "co-requisite" while you start RN to BSN coursework.
What is the ReNEW Program?
The ReNEW Program is a special partnership between UW and Wyoming community colleges. As of Fall 2018, all Wyoming community colleges are delivering the ReNEW curriculum.
Students are eligible to enroll in ReNEW BSN coursework at UW simultaneously with their ADN programs. (Simultaneous enrollment is an option, not a requirement.)
Graduates of ReNEW ADN programs can become licensed RNs and complete the ReNEW BSN with as few as 10 remaining credit hours of coursework.
Are There Any Online RN to BSN to MSN Programs in Wyoming?
Not that we could find. UW offers an Online MSN, but it doesn't appear to have a specific RN to BSN to MSN pathway. If you're interested in graduate work, but you need a BSN for employment purposes, check out the accelerated & accredited online offerings in our listings of RN to BSN to MSN Programs.
Wyoming RN to BSN Online Schools
University of Wyoming
Fay W. Whitney School of Nursing
Laramie, Wyoming