Best RN to BSN Online Programs in Massachusetts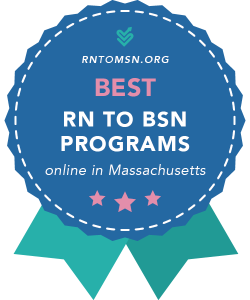 1. University of Massachusetts-Boston
It was a close race, but UMass Boston just beat out other UMass schools to take the #1 spot in our Best rankings! The College of Nursing and Health Sciences is known for its strong partnerships with local healthcare systems (e.g. MGH), solid NCLEX pass rates, and well-reviewed programs. It even offers a variety of nursing scholarships. The Online RN-BS is 100% online, with the option of synchronized classes or face-to-face courses at Cape Cod Community College (CCCC). It also includes a service learning project in a community of your choice. Tuition prices are similar to UMass Dartmouth and graduate pathways are available for further study.
2. University of Massachusetts-Amherst
Put UMass Amherst on your Massachusetts shortlist! The College of Nursing is well-known in the area and receives positive reviews. Students often praise the helpfulness & experience of professors, the rigorous coursework, and opportunities for interaction, The Online RN to BS is 100% online, with flexible start dates in spring or summer, full-time or part-time schedules, and clinical practicum work in Vulnerable/Underserved Populations. After graduation, you have the option to pursue the highly ranked Online MSN or BSN to DNP.
3. University of Massachusetts-Dartmouth
UMass Dartmouth is another solid choice in Massachusetts (and less expensive than UMass Amherst). Independent reviews of the College of Nursing & Health Sciences are excellent, with former students praising the hands-on nature of the nursing programs and supportive faculty. And it offers Online MSN and BS to DNP tracks for further study. At UMD, you'll find an Online RN-BS that is 100% online, with useful coursework (e.g. Nursing Care of Persons with Chronic Illness) and faculty-directed independent study in clinical community nursing.
Cheapest RN to BSN Online Programs in Massachusetts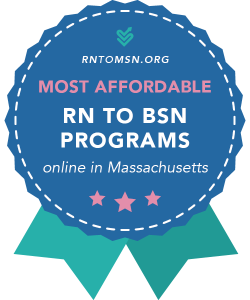 As you might expect, Massachusetts is an expensive state for Online RN to BSN students. Average tuition costs at UMass schools and state universities usually range from $12,000-$18,000. Prices at private colleges like Emmanuel and Labouré are a little more manageable, but they're certainly not cheap. If money is a key issue, explore our rankings of the Most Affordable Online RN to BSN Programs in the country.
1. Anna Maria College
This ACEN-accredited Online RN to BSN has one of the most affordable tuition rates in the state. AMC is a private Catholic college, so tuition is the same for all RNs, regardless of their location. All program fees are included in this rate. Additional fees may apply pending clinical placement requirements (e.g. CPR Certification).
2. Fitchburg State University
FSU's 100% Online RN to BSN just squeaked in under the $10,000 threshold. Tuition rates are pretty straightforward; additional costs may apply for students who need to complete General Education (GE) coursework. If you commit to 2 courses per 7-week session, you can finish in 12 months; part-time study will take longer. There are multiple start dates.
Fastest Online RN to BSN Programs in Massachusetts
To appear in our Fastest rankings, Online RN to BSN programs had to be less than 3 semesters/1 year in length. We didn't find any accredited offerings that fit that criteria—the quickest, full-time options were usually 12 months. If you need a degree quickly, check out our list of the Fastest Online RN to BSN Programs in the country.
RN to BSN Scholarships in Massachusetts
Statewide Scholarships for Massachusetts RN to BSN Students
Massachusetts Nursing Organization Scholarships
Start by applying for Massachusetts Nurses Foundation (MNF) Scholarships from the Massachusetts Nurses Association (MNA)—there's a simple application form. MNA members also qualify for a number of tuition discounts, fee waivers, and scholarships at partner universities, both for the BSN and the MSN. Check out the BSN deals at Drexel, Regis, and Rivier.
But the MNA isn't the only funding body in town! As a Massachusetts RN, you may also qualify for:
Massachusetts Community Foundation & City of Boston Scholarships
After you've explored awards from nursing organizations, we recommend you look up your local community foundation in MA. Many foundations offer education scholarships to local residents. Examples include:
Better yet, the City of Boston Scholarship Fund is open to new and current college students AND continuing education students who plan to attend a post-secondary school in Massachusetts.
Massachusetts Healthcare System & University Partnerships
Do you work for a New England hospital or healthcare system? Talk to your HR representative about your education plans. For instance, MGH Employee Benefits include tuition reimbursement, The Association of Multicultural Members of Partners Scholarship, and more.
Your employer may also offer unique awards (e.g. Cooley Dickinson Hospital Nursing Scholarships) or have training programs in place. For example, the Beth Israel Deaconess Medical Center (BIDMC) Partnership is a residency program that creates a pathway for Nurse Residents at BIMDC to continue working while covering the costs associated with Emmanuel's on-site, evening RN-to-BSN program.
University Scholarships for Massachusetts RN to BSN Students
In Massachusetts, big public universities in the UMass system tend to offer the most nursing scholarships and institutional aid. But they can also be more expensive than smaller colleges. So choosing an Online RN to BSN will be a balancing act! When you're exploring general university scholarships, bear in mind that many awards will be reserved for "traditional" 4-year undergraduates.
American International College
Anna Maria College
Bay Path University
Curry College
Elms College
Emmanuel College
Endicott College
Fitchburg State University
Fisher College
Labouré College
Salem State University
University of Massachusetts-Amherst
University of Massachusetts-Boston
University of Massachusetts-Dartmouth
Westfield State University
Worcester State University
RN to BSN Requirements in Massachusetts
RN Licensure: Online RN to BSN degrees are classified as "post-licensure" programs. Massachusetts colleges & universities will expect you to hold—or be in the process of earning—an RN license. If you're a new graduate, you'll have a little bit of wiggle room. For instance:
The Massachusetts Board of Registration in Nursing can answer any questions you may have. The Board also posts recent NCLEX pass rates for pre-licensure programs. These stats don't apply to RN to BSN degrees, but we like to use them as a quality benchmark.
State Authorization: Live outside of Massachusetts? Before you apply to an Online RN to BSN program in the Bay State, check the fine print on state authorization. Some schools are happy to accept out-of-state RNs (e.g. UMass options); some schools will only consider applicants with a current, unrestricted Massachusetts RN license (e.g. Fisher, Salem State, Worcester State, etc.).
Frequently Asked Questions
Are 100% Online RN to BSN Programs Available in Massachusetts
Yes. A sizeable number of Massachusetts Online RN to BSN programs in our listings are completely online, with no campus visits required (e.g. UMass schools, Bay Path, Labouré, etc.). However, we spotted a few that were hybrid (e.g. Westfield State, Worcester State, etc.). If you're in any doubt, check with the RN to BSN program coordinator.
We also noticed that a number of MA schools will provide you with a choice. For instance, Elms College's RN-BSN program is delivered face-to-face OR online in a cohort model. And Curry's Online RN to BS in Nursing can be fully online OR hybrid with weekly classroom meetings.
Can I Choose a "No Clinicals" Online RN to BSN in Massachusetts?
Not really. ACEN- and CCNE-accredited Online RN to BSN programs always contain in-person practicums. However, they won't be like clinicals in your associate or diploma program. Instead, they're often focused on giving you experience in leadership & community health. For example:
Clinical practicums in Online RN to BSN programs can—almost always—be completed in your home community or place of work. Ask the RN to BSN program coordinator how the process works.
Do I Need to Have Statistics to Apply to Massachusetts Online RN to BSN Programs?
Maybe—check the curriculum and admissions sections to see what's listed under prerequisites. Many schools in Massachusetts are looking for statistics (e.g. Curry, Emmanuel, UMass Amherst, UMass Boston, etc.), but it's not a hard-and-fast rule. Keep in mind, too, that religious schools like Emmanuel may also have theology prerequisites.
Are There Any Online RN to BSN to MSN Programs in Massachusetts?
Yes. If you'd like to earn an MSN, but you still need a BSN on your résumé for employment purposes, you should definitely check them out. These accelerated programs will allow you to earn both degrees in a shortened time-frame.
Elms's Online RN-BSN-MSN is one example. But you could also consider AIC's Online RN to BSN. Although it's not an official RN to BSN to MSN program, 6 credits earned in the RN to BSN are co-listed as graduate-level courses and accepted as credits for MSN completion.
If you're willing to commute to a campus, your choices expand even further. Worcester State has a Hybrid RN-to-MS Fast Track Program that's offered to students in its RN-to-BS program. And Regis has an RN to BSN to MSN Upward Mobility that looks to be on-site.
Do Massachusetts Universities Have Agreements with Local Community Colleges?
You bet. Public & state universities in Massachusetts try to make it as easy as possible for you to transfer credits from your associate degree to a bachelor's degree program. For example, students in the Quinsigamond Community College-Worcester State University 3+1 Program complete the first six semesters at QCC prior to admission into the Hybrid RN to BS Track II program.
Even private schools will have relationships with local community colleges. For example, the MassTransfer partnership applies to schools like Labouré. And Emmanuel has joint admissions agreements with Bunker Hill Community College, Mass Bay Community College, Bristol Community College, and Roxbury Community College. If you're currently in an MA community college program, talk to the school about RN to BSN options.
Massachusetts RN to BSN Online Schools