Best RN to BSN Online Programs in Indiana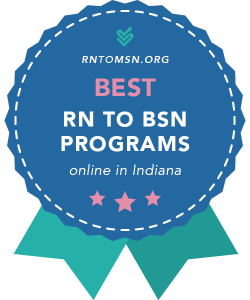 1. Indiana University-Purdue University-Indianapolis
IUPUI's School of Nursing (IUSON) is a perennial powerhouse. It's an NLN Center of Excellence with great U.S. News & World Report rankings and a whole bunch of respected research centers & institutes. But it's also affiliated with IU hospitals and local healthcare providers, including on-campus hospitals and IU Health facilities throughout Indiana. The 100% Online RN to BSN is fairly affordable and strong on management & practical coursework. Plus it includes 2 electives—a rare feature in RN to BSN programs.
2. Purdue Global
Purdue's Online RN-to-BSN surges into our #2 spot thanks to a host of quality markers. The School of Nursing is an NLN Center of Excellence with its own nurse-managed clinic. It has achieved excellent NCLEX pass rates in recent years. Its graduate programs are highly ranked. And it offers a flexible RN-to-BSN program with nursing elective courses that are aligned to certifications recognized by Magnet®. Interested in an MSN? The Accelerated Master of Science in Nursing option allows you to complete up to 3 graduate courses in place of RN to BSN electives.
Cheapest RN to BSN Online Programs in Indiana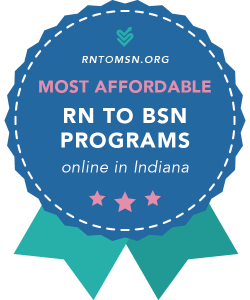 To keep our Cheapest rankings simple, we've only included IN programs that fall under $10,000 in total tuition. But we also urge you to check out Marian, IU South Bend, IUPUI, and IUFW—prices aren't far off. Feel free to compare these schools with our rankings of the Most Affordable Online RN to BSN Programs in the country.
1. Ball State University
If you live in Indiana, tuition for Ball State's Online RN to BS is eminently reasonable; out-of-state rates will take you above $10,000 in total cost. We've included the per credit online course fee & technology fee in our calculations, but nursing programs may have additional per semester fees. Ask the RN to BSN program coordinator for a sample budget.
2. University of Southern Indiana
Even though USI is a public university, tuition rates for the Online RN to BSN are exactly the same for in-state and out-of-state residents, with no pesky hidden fees. USI will want to see 18 credits of specified non-nursing support courses for prerequisites—keep in mind that the price will go up if you need to complete any of these.
Fastest Online RN to BSN Programs in Indiana
To appear in our Fastest rankings, Indiana schools had to offer Online RN to BSN pathways that were less than 3 semesters/1 year. We didn't find any IN programs that met that criteria—the quickest options were 12 months on a full-time schedule.
If time is really of the essence, check out our rankings of the Fastest Online RN to BSN Programs in the country. They are ranked by speed and then by price.
RN to BSN Scholarships in Indiana
Statewide Scholarships for Indiana RN to BSN Students
Indiana Nursing Organization Scholarships
In your quest for state funding, start with Indiana nursing organizations. Many of them are willing to assist RNs who want to advance their careers. Examples include:
Indiana Community Foundation & Regional Scholarships
Take a minute to find your local IN community foundation. Although most awards will be reserved for high school graduates, you'll occasionally find undergraduate scholarships that are open to continuing learners. Examples include:
Residents of certain IN counties may also be eligible for Lutheran Foundation Health Professions and Nursing Scholarships.
Indiana Healthcare System & University Partnerships
Do you work for an Indiana hospital or healthcare system? Talk to your HR representative about educational partnerships and tuition discounts before you decide on an Online RN to BSN. For instance:
In our research, we also came across unique scholarship opportunities for healthcare employees. Examples include:
University Scholarships for Indiana RN to BSN Students
Institutional aid in Indiana can vary quite a bit. Big IU schools like IUPUI often have a lot of internal & system-wide awards. Private schools like IWU may offer unique tuition discounts. Under each school, we've included links to university-wide scholarships, but make sure that online, upper division students are eligible to apply. Some awards will be reserved for "traditional" 4-year undergraduates.
Ball State University
Bethel University
Goshen College
Marian University
Indiana State University
Indiana University-East
Indiana University-Kokomo
Indiana University-Fort Wayne
Indiana University-Northwest
Indiana University-Purdue University-Indianapolis
Indiana University-South Bend
Indiana University-Southeast
Indiana Wesleyan University
Purdue Global
Purdue University Northwest
University of Evansville
University of Saint Francis
University of Southern Indiana
Valparaiso University
Vincennes University
RN to BSN Requirements in Indiana
RN Licensure: Online RN to BSN degrees are classified as "post-licensure" programs. In other words, Indiana universities will want you to hold—or be in the process of earning—an RN license. If you're still in an associate degree program, check the admissions requirements. Many schools will allow you to enroll before you've taken the NCLEX exam.
State Authorization: Do you live out-of-state? Before you apply for an Indiana Online RN to BSN, make sure you're eligible to apply. Because of distance learning regulations, we noticed that a number of IN schools cannot accept students from certain states (e.g. Ball State, USI, ISU, etc.). For example, candidates for Goshen's Online RN to BSN must have a current nursing license from Indiana or Michigan.
Frequently Asked Questions
Are There Any 100% Online RN to BSN Programs in Indiana?
You bet! In fact, most programs in our Indiana listings are 100% online, with no campus visits required. IU's system-wide Online RN to BSN is the most prominent example, but there are plenty of others.
At IWU, you even have a choice. The Online RN to BSN is offered in either a 100% online or hybrid online/on-site format.
What Are the Easiest Online RN to BSN Programs in Indiana?
This is a tough question to answer, since it depends on your circumstances and your skill-set. For example, if you like management, a leadership-focused Online RN to BSN with a lot of written papers may be easier than an Indiana program that's heavy on community health practicums.
So we recommend you go for the most convenient! Choose an Online RN to BSN that fits your schedule, budget, and career goals. We've provided curriculum links in our Indiana listings so you can assess the usefulness of coursework.
Can I Choose a "No Clinicals" Online RN to BSN in Indiana?
Not really. Because of CCNE regulations, Online RN to BSN programs almost always include clinical practicums in upper-level coursework.
However, these on-the-ground experiences will be different to your work in the associate degree or diploma. Practicums at the RN to BSN level often involve community health training, leadership projects, and/or capstone work.
Do I Need Statistics to Apply to Indiana Online RN to BSN Programs?
Maybe. When we were examining admissions requirements, we saw it mentioned as a prerequisite for a number of schools (e.g. Ball State, Valpo, etc.).
But it's not a hard-and-fast rule. In Goshen's Online RN to BSN, an intro course to healthcare statistics is included as part of the syllabus. So check the fine print.
If you're applying for a Christian school such as IWU, keep in mind that you may also need General Education (GE) prerequisites in Biblical Studies or religion.
Are There Any Online RN to BSN to MSN Programs in Indiana?
Indiana Online RN to MSN Programs do exist, but it's not clear if they will allow you to earn a BSN along the way. If you need a bachelor's degree for employment purposes, we recommend you get in touch with the RN to MSN program coordinator to find out if a BSN will be awarded.
We also want to highlight Purdue's Accelerated Master of Science in Nursing option for its Online RN-to-BSN (you can substitute 3 master's level courses for the electives) and Valpo's Hybrid RN to MSN with a Nurse Educator focus. Valpo's program is not 100% online, but it will allow you to obtain both the BSN and MSN.
Indiana RN to BSN Online Schools