Best RN to BSN Online Programs in Wisconsin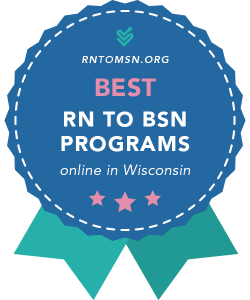 1. Concordia University-Wisconsin
CUW's Online BSN Completion takes the #1 spot in Wisconsin thanks to outstanding independent reviews. Nursing alumni praise the rigor of the undergraduate & graduate programs, the passionate & supportive professors, and the sense of community & support. The School of Nursing is well-known in Wisconsin and it sets a high bar for quality. RN to BSN applicants must have a 2.75 GPA (lower GPAs will be reviewed for conditional acceptance) and be actively working as an RN. Tuition is not cheap, but CUW offers plenty of scholarships and a special Flat Rate for this program—the more credits you take, the more you'll save. Plus start dates are offered throughout the year!
2. University of Wisconsin-Eau Claire
RN to BSN Credits: 30
Length: 2 Years
Accepts Out-of-State RNs: Yes (MN license accepted)
UWEC's Hybrid BSN Completion is part of [email protected]. We've put this blended program at the top of the UW heap because of its innovative elements, wide choice of electives, and personal touch! Although most of the coursework is online, you will be expected to attend remote synchronous classes approximately 4 times per semester for two UWEC-specific courses. During your capstone course, you can choose to complete your clinical component in your local area, participate in an immersion at the Rosebud Indian Reservation in Rosebud, South Dakota, or be part of an interdisciplinary team at the UWEC Human Development Center in Eau Claire.
We might also mention that the College of Nursing + Health Sciences tends to achieve excellent NCLEX pass rates, runs an annual Nursing & Health Care Professional Fair, and offers BSN Completion Scholarships (e.g. Belva M. Zwygart Gerontological Nursing Scholarship).
3. University of Wisconsin-Oshkosh
RN to BSN Credits: 30
Length: 3 or 4 Semesters (Full-Time); 5 Semesters (Part-Time)
Accepts Out-of-State RNs: No
Prefer a [email protected] program that's 100% online? Check out UWO's Online BSN Completion. This flexible program requires no campus visits and it can be completed in pretty short order—core nursing courses are offered in spring, fall, and summer terms. Better yet, General Education (GE) requirements may be taken at other UW System schools, including UW Colleges Online. Student reviews for UWO's College of Nursing tend to be positive, NCLEX pass rates are sturdy, and NP certification pass rates are excellent. If you're considering graduate work, the College also offers an Online RN to BSN to MSN pathway and a Hybrid BSN to DNP for aspiring FNPs.
Cheapest RN to BSN Online Programs in Wisconsin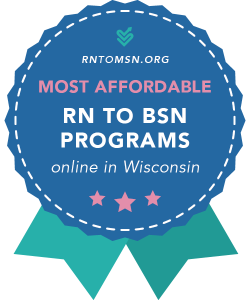 Wisconsin is an expensive state for Online RN to BSN students. Total tuition costs for [email protected] programs at UW schools often fall between $13,000-$14,000; prices at private universities can be even higher. When we did the math, there was only one Wisconsin program that could qualify as "cheap." But it's an intriguing one!
1. University of Wisconsin-Milwaukee
UWM's 100% Online RN to BSN can be affordable if you choose the UW Flex pathway. In the self-paced All-You-Can-Learn Option, you're allowed to take as many courses as you'd like within a subscription period. Subscription periods start every month and last for ~12 weeks. Each period, you'll pay a flat tuition rate with no additional fees. Finish your program in 3 periods (~36 weeks), and you'll pay less than $7,000. Finish it in 4 periods (~48 weeks), and you'll pay less than $10,000. UWM's Flex Tuition Guarantee also means that your tuition will never increase as long as you are an active student.
Fastest Online RN to BSN Programs in Wisconsin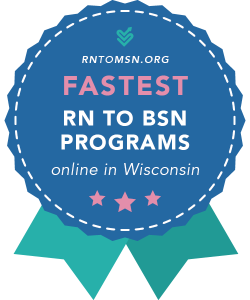 To appear in our Fastest rankings, Online RN to BSN programs in Wisconsin had to be less than one year/3 semesters. You'll notice that most [email protected] programs exceed this time limit. However, you do have one unique option. If you'd like to compare UWM with other 100% online opportunities, check out our rankings of the Fastest Online RN to BSN Programs in the country.
1. University of Wisconsin-Milwaukee
With the UW Flex version of UWM's 100% Online RN to BSN, you set the pace. You're allowed to start a subscription period in any month of the year. And the more quickly you finish the BSN, the more affordable it will be. UWM has a pretty generous transfer policy, but you will be required to complete at least 30 credits at the university. All coursework is asynchronous, with no live classes. Keep in mind that BSN students are expected to find a qualified preceptor in their own workplace or community setting for the practicum component of their capstone course.
RN to BSN Scholarships in Wisconsin
Statewide Scholarships for Wisconsin RN to BSN Students
Wisconsin Nursing Organization Scholarships
After you've explored national scholarships for RN to BSN students, you can get stuck into applying for statewide awards. We recommend you start your search with WI nursing & healthcare associations:
Wisconsin Community Foundation Scholarships
Wisconsin Community Foundations will also offer scholarships for university education. Many awards are reserved for 4-year undergraduates, but some are open to non-traditional students & adult undergraduates! Here are just a couple of examples:
Find your local Community Foundation in Wisconsin and ask them about scholarship opportunities.
You might also wish to investigate options from community non-profits and altruistic organizations. For example, the Wisconsin American Legion Auxiliary offers a Past Presidents Parley Scholarship for Nursing Students, available to descendants of veterans who reside in Wisconsin.
Wisconsin Healthcare System & University Partnerships
Are you currently working in a Wisconsin healthcare system or hospital? Be sure to ask your HR representative about education benefits. You may be eligible for tuition reimbursement, tuition discounts, fee waivers, and a whole lot more.
For instance, Advocate Aurora Health employees can get breaks from:
This is just one example—there are plenty more partnerships out there!
University Scholarships for Wisconsin RN to BSN Students
You'll find a lot of institutional aid at UW schools (e.g. UWGB's Lorraine M. Noll Memorial Scholarship for RN-BSN students and UW-Madison's scholarships for [email protected] students), but you don't have to choose a public school. CUW has tons of tuition breaks and Viterbo offers BSN Completion Scholarships. Ask the RN to BSN program coordinator for a list of potential awards.
Alverno College
Cardinal Stritch University
Carthage College
Concordia University-Wisconsin
Herzing University
Marian University Wisconsin
Mount Mary University
Ottawa University
University of Wisconsin-Eau Claire
University of Wisconsin-Green Bay
University of Wisconsin-Madison
University of Wisconsin-Milwaukee
University of Wisconsin-Oshkosh
University of Wisconsin-Stevens Point
Viterbo University
RN to BSN Requirements in Wisconsin
RN Licensure: Online RN to BSN degrees are classified as "post-licensure" programs. That means Wisconsin colleges & universities will expect you to have—or be in the process of earning—your RN license. If you're currently finishing up an associate degree program, you may have a bit of leeway. For example, UW-Madison allows students to earn their RN license within the first semester of its Online RN to BSN.
The Wisconsin Board of Nursing can answer any questions you may have about RN licensure within the state.
It also posts NCLEX Pass Rates for pre-licensure programs. Although pass rates don't apply to RN to BSN degrees, we like to use them as a quality benchmark. Avoid any WI school with consistently poor results.
State Authorization: Do you live out-of-state? Be sure to check the Admissions requirements before you apply. Many Wisconsin schools have limitations on who they can accept. To highlight just a few examples:
Applicants to UW-Madison's Online RN to BSN must be residents of Wisconsin, the upper peninsula of Michigan, and/or contiguous counties in Illinois, Iowa, or Minnesota.
Marian accepts RNs from a number of states, but there are exceptions. See the State Authorization Map.
Frequently Asked Questions
What is the University of Wisconsin's [email protected]?
[email protected] is a joint effort of six nursing programs in the University of Wisconsin System: UW-Eau Claire, UW-Green Bay, UW-Madison, UW-Milwaukee, UW-Oshkosh, and UW-Stevens Point.
All of these UW schools have agreed to offer Online BSN Completion programs that have a similar framework and a shared core curriculum of upper-level nursing credits.
However, each UW school has the freedom to tailor their [email protected] offering with electives, unique coursework, and additional admissions requirements. See the comparison chart for a helpful overview of the differences.
All [email protected] choices are CCNE-accredited, so you can truly have your pick of schools. Some programs are hybrid; some are 100% online. And two of them appear in our Best Wisconsin rankings (e.g. UWEC and UWGB).
Can I Choose a "No Clinicals" Online RN to BSN in Wisconsin?
Probably not. Thanks to CCNE regulations regarding BSN programs, clinical practicums are almost always included in RN to BSN degrees. Even 100% online degrees will contain on-the-ground elements.
Fortunately, clinicals at the BSN-level are different to clinicals at the ADN or diploma level. For example:
In Marian's Online RN to BSN, you'll tackle a Population Health Clinical course that requires 90 hours of direct community clinical contact in a site close to your home.
In Viterbo's Online BSN Completion, you'll complete 24 hours of clinical experience with a public health registered nurse. Your instructor will help you find a site near your location.
In UWM's Online RN to BSN: UW Flexible Option, you'll be expected to create a clinical project and find a qualified preceptor in your workplace or another setting for your capstone course.
Are There Any 100% Online RN to BSN Programs in Wisconsin?
Absolutely. Many Wisconsin universities & colleges in our state listings offer 100% programs, with no campus requirements (e.g. Carthage, Alverno, Marian, etc.). At Mount Mary, all nursing courses are online and any liberal arts courses may be completed online or on campus.
Are you considering [email protected] options? Check the program page and [email protected] comparison chart to get a sense of your options:
Some UW programs are 100% online (e.g. UWO).
Some UW programs are hybrid (e.g. UWEC).
Some UW programs are available in multiple formats—face-to-face, online, and even self-paced (e.g. UWM).
Do I Need Statistics to Apply for Wisconsin Online RN to BSN Programs?
Not necessarily. When we were investigating programs, we noticed that a number of Wisconsin schools incorporate statistics into the Online RN to BSN curriculum. For instance:
You'll usually find a list of prerequisites under the Admissions requirements—we've included links in our state listings. Feel free to ask the RN to BSN program coordinator for help.
Are There Any Online RN to BSN to MSN Programs in Wisconsin?
Yes! Wisconsin has plenty of options for RNs who are interested in the MSN, but might need a BSN for employment purposes. Examples include:
In fact, many of the University of Wisconsin's [email protected] programs will help you get a jump-start on graduate education. For example:
UWGB's BSN-MSN Accelerated Leadership Option allows qualified undergraduate students to enroll in 3 specific graduate courses at the undergraduate tuition rate.
UWEC's RN/BSN/MSN Option enables BSN students to take up to 9 credits of MSN-level courses (e.g. Nursing Research and Leadership in Nursing).
Wisconsin RN to BSN Online Schools