Best RN to BSN Online Programs in West Virginia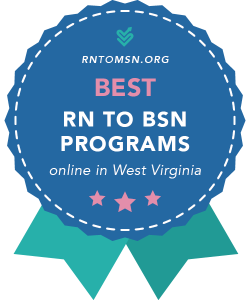 1. West Virginia University
Interested in rural health? Put WVU's 100% Online RN to BSN on your shortlist. It's backed by a School of Nursing with sturdy NCLEX pass rates and a long history of supporting rural Appalachia. The School runs faculty-led clinics and organizes a large number of community engagement projects, including rural health service projects. During the CCNE-accredited Online RN to BSN, you'll be required to participate in community service hours. You'll also have a chance to take courses in topics like ethics & interventions and informatics. You may even be eligible for WVU's Undergraduate Nursing Scholarships; there are some opportunities for RN to BSN students.
2. Marshall University
Affordable, quick, and ACEN-accredited—Marshall's 100% Online RN to BSN has pretty much everything you need in an online program! We've awarded it the #2 spot thanks to excellent independent reviews and a great School of Nursing. It's the largest regional provider of nursing education in a major university and it consistently earns strong NCLEX & NP certification pass rates. Better yet, it integrates project-based experiences in healthcare facilities into a hefty number of Online RN to BSN courses. Even though all of your asynchronous coursework will be online, you'll still be making useful career connections. Thinking of graduate work? Check out the Online MSN options.
Cheapest RN to BSN Online Programs in West Virginia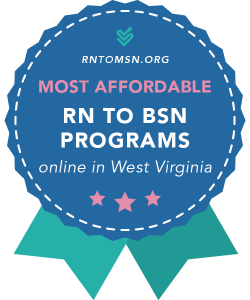 West Virginia is a pretty affordable state for Online RN to BSN students! For our Cheapest rankings, we included any WV programs that were between $8,000-$9,000 in estimated total tuition costs. But most of your other options will still be reasonably priced. Feel free to compare them with schools in our rankings of the Most Affordable Online RN to BSN Programs in the country.
1. Alderson Broaddus University
To calculate the tuition for AB's 100% Online RN to BSN, we multiplied the cost per credit hour by 24 credits. If you need to complete additional General Education requirements, the price will go up. Rates are the same for full-time and part-time students. For this ACEN-accredited program, you should also budget for textbooks and one-off fees (e.g. background check).
2. Marshall University
Online RN to BSN students at Marshall pay distance learning tuition. Tuition rates & e-course delivery fees for this 100% online and ACEN-accredited program are the same for in-state and out-of-state students. We used the part-time, per credit rate for our tuition calculations, but the price may be even lower if you are able to get your degree done in 2 semesters. The full-time, per semester rate is pretty darn low!
3. American Public University System
APU's 100% Online RN to BSN has 28 credits for the major requirement and 3 credits for a mandatory Senior Seminar in Nursing Studies. So we multiplied the undergraduate tuition rate by 31 credits. APU provides no-cost textbooks and ebooks for all undergraduates. Military members are also eligible for hefty tuition discount with the military grant.
Fastest Online RN to BSN Programs in West Virginia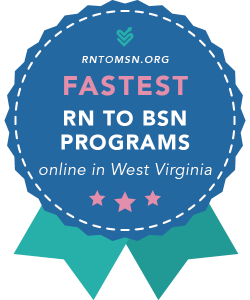 To appear in our Fastest WV rankings, Online RN to BSN programs had to be available in a full-time format that was less than 1 year/3 semesters. We found one school that met this criteria. You'll also see it listed in our rankings of the Fastest Online RN to BSN Programs in the country.
1. Marshall University
Marshall's 100% Online RN to BSN is available in a full-time, 2-semester format or longer part-time plans of study. If you choose the full-time option, you'll take 4 courses in the first semester and 4 courses in the second semester. A number of them will include project-based experiences in your local community—see the RN to BSN Handbook for details and a sample schedule.
RN to BSN Scholarships in West Virginia
Statewide Scholarships for West Virginia RN to BSN Students
West Virginia Nursing & Healthcare Organization Scholarships
West Virginia offers a renowned West Virginia Nursing Scholarship Program with a 2-year service obligation, but we recommend you check to see if you're eligible. Current RNs looking to finish up their education may not qualify.
Employees of West Virginia Health Care Association facilities can apply for West Virginia Health Care Foundation Scholarships.
West Virginia Community Foundation Scholarships
Take a moment to find your local Community Foundation in West Virginia and ask them about scholarships. Although most awards will be aimed at recent high school graduates, foundations also offer scholarships to adult learners. Here are just a couple of examples:
If you're thinking of applying to a WV public college or university, you may also qualify for the Higher Education Adult Part-Time Student Grant Program. Recipients are selected each year by institutions based on student eligibility and availability of funds.
West Virginia Healthcare System & University Partnerships
Do you work for a West Virginia healthcare system or hospital? Chat to your HR representative about your education plans! You may be eligible for tuition reimbursement, university discounts, loan forgiveness plans, and more.
For example, the Charleston Area Medical Center (CAMC) offers all kinds of Educational Assistance to employees and has special CAMC Foundation Grants.
University Scholarships for West Virginia RN to BSN Students
Institutional aid will vary from school to school. West Virginia University has a lot of funds for nursing students, but APU has a great military tuition discount. When you're looking into general university scholarships, make sure they apply to non-traditional, online learners. For instance, UC Scholarships are exclusive to Charleston campus undergraduates.
American Public University System
Alderson Broaddus University
Bluefield State College
Fairmont State University
Marshall University
Shepherd University
University of Charleston
West Liberty University
West Virginia University
Wheeling University
RN to BSN Requirements in West Virginia
RN Licensure: Online RN to BSN degrees are classified as "post-licensure" programs. West Virginia universities will expect you to have—or be in the process of earning—an RN license. If you haven't taken the NCLEX exam, you may still be able to apply. For example, Marshall is willing to consider ADN or diploma candidates as long as they earn an unencumbered RN license prior to beginning the second semester of the Online RN to BSN.
State Authorization: Do you live outside of West Virginia? Before you start filling out application forms, check to make sure that you're able to apply. Some programs have restrictions. For example:
Frequently Asked Questions
Are 100% Online RN to BSN Programs in West Virginia Available?
Absolutely. The vast majority of Online RN to BSN programs in our West Virginia listings—including options from top-ranked schools like WVU and Marshall—are 100% online, with no campus visits required.
There are a few exceptions to the rule. For example, Wheeling's Online RN to BSN/MSN may include campus visits for the NUR 460 course. When in doubt, ask the RN to BSN program coordinator for clarification.
Can I Choose a "No Clinicals" Online RN to BSN Program in West Virginia?
It depends on what you mean by "clinicals." Accredited RN to BSN programs almost always contain on-the-ground fieldwork and practicums, but these aren't like bedside clinicals. Instead, they will usually involve training in community health & leadership within your local area or place of employment.
Talk to the RN to BSN program coordinator to get a sense of your responsibilities. AB's Online RN to BSN and the University of Charleston's Online RN-BSN claim to have no clinical requirement, but they may still contain fieldwork experiences.
Do I Need Statistics to Apply for West Virginia Online RN to BSN Programs?
Probably. We saw statistics listed as a prerequisite in a large number of West Virginia programs. However, it's worth noting that you may be able to take it as a "co-requisite" during the Online RN to BSN program.
Are There Any Online RN to BSN to MSN Programs in West Virginia?
Yes. Wheeling's accelerated Online RN to BSN/MSN program is primarily online, with MSN-level credits embedded into the BSN. Campus visits may be required for the NURS 460 course; there's also a required on-campus presentation for the MSN. Clinical experiences usually occur in the student's home community at an approved clinical site.
What Should I Know About American Public University System?
American Public University System is a for-profit online learning institution. However, it is a) CCNE-accredited; b) fairly affordable; and c) regionally accredited by the Higher Learning Commission (HLC). Talk to recent APU students and career mentors to get a sense of its overall credibility in the nursing market.
West Virginia RN to BSN Online Schools