How Do Online RN to BSN Programs Work?
The Structure of an Online RN to BSN
Online RN to BSN programs are aimed at RNs with an associate's degree or diploma in nursing who want to earn a bachelor's degree in nursing. Because RN to BSN are degree completion programs, they're usually short and tailored toward working professionals. Many RN to BSN programs are offered in a 100% online or hybrid format!
Online RN to BSN programs—including degrees that feature in our Best Online RN to BSN Rankings—have the same core characteristics:
Practical Schedules: Online RN to BSN programs can be self-paced, full-time (e.g. 2-3 semesters) or part-time (e.g. 4 semesters or more). You can choose a plan of study that fits around your work commitments! You'll also be able to take advantage of shortened courses (e.g. 5-8 weeks in length) and rolling start dates.
Generous Credit Transfers: Schools of Nursing often accept up to 90 transfer credits for the RN to BSN. This number includes transfer credits from your associate degree or nursing diploma (e.g. 60 credits) and credits for your RN license or prior work experience (e.g. 30 credits).
300- and 400-Level Courses: Universities will typically expect you to complete at least 30 credits in their School of Nursing before they will grant you a BSN. If you don't have certain prerequisites or General Education requirements, you'll also have to make up those courses.
Field Practicums: Online RN to BSN courses are weighted toward research, leadership, and critical thinking skills in the field of nursing. Practicums will be included in the curriculum—especially in Nursing Leadership & Community Health courses—but they won't focus on bedside clinical training. And you'll often be able to complete them in your community or place of work.
Online RN to BSN Delivery Formats
Online RN to BSN programs are hugely popular! Schools of Nursing know you have clinical experience from your RN work and your previous studies. So they're super-comfortable with delivering the remainder of BSN coursework through distance learning. Here are some formats you'll see in our Best Online RN to BSN Rankings and State Rankings:
100% Online: All coursework will be delivered online, through a variety of platforms (e.g. Blackboard). Group work and conversations will be virtual. Any practicum work will take place in your home community.
Hybrid: Some schools will want to see you in person. For example, the University of Virginia's top-notch program contains monthly campus visits.
Choose Your Own Format: Universities may allow you to create your own program. For example, Indiana Wesleyan University's RN to BSN is available in a 100% online format, a blended format, or on-site in Indiana, Kentucky, and Ohio locations.
3 Ways to Spot a Quality Online RN to BSN
Important Accreditations
Regional Accreditation: As a rule of thumb, we recommend that you choose a university that has regional accreditation. Many employers, graduate schools, and funding bodies will want to see a regionally accredited school on your résumé. We talk a lot more about the distinction between regionally and nationally accredited schools in our guide to Accreditation.
Nursing Accreditation: CCNE is the standard for RN to BSN programs—it only accredits programs at the baccalaureate level and higher (e.g. BSN, MSN, etc.). Occasionally, you'll run into a BSN with ACEN accreditation. They are also acceptable. If you're in any doubt, check the CCNE-accredited program directory and ACEN-accredited program database.
State Board Approvals & Authorizations
State Board Approval: In addition to CCNE or ACEN accreditation, you can ask if the BSN has been approved by the State Board of Nursing. As an RN, you will have already gone through the licensure process. But state board approval means that the School of Nursing is a trustworthy provider.
State Authorization: It's always best to check if the university is authorized to offer distance education programs in your state. You'll usually find this info listed in the Admissions section. If in doubt, ask the RN to BSN program coordinator about your situation.
School of Nursing Quality Markers
Ranked in our Best Online RN to BSN Programs and State Rankings
Good brick & mortar reputation with glowing reviews from alumni
NLN Center of Excellence in Nursing Education
AACN Membership
Instructor Awards (e.g. Nurse Educator of the Year)
CCNE-accredited graduate programs
Attached to an academic health science center
Clinical connections to well-known healthcare institutions
Government-funded nursing research work
Strong NCLEX pass rates (verifiable on the State Board of Nursing website)
Strong NP certification exam pass rates
Excellent employment outcomes after graduation
---
Best Online RN to BSN Programs | 2024 Edition
Methodology: How We Assessed Top Online RN to BSN Programs
Our 2024 rankings of the Best Online RN to BSN Programs have seen a few changes this year! Because we focus on Return on Investment (ROI) for RNs, we've beefed up our algorithm with additional data points. All data are government-collected or manually collected by our researchers. Rankings calculations are run by a PhD Statistician. Here's what we included in our 2024 assessments:
Quality Control: To be considered for our rankings, all schools had to be regionally accredited and all Online RN to BSN programs had to be CCNE- or ACEN-accredited. We excluded for-profit institutions and non-accredited Schools of Nursing.
Student Success: IPEDS data gave us data about admission rates, retention rates, graduation rates, and total graduates. To get a fuller picture, we also researched NCLEX pass rates for the most recent year (e.g. 2022 or 2023) and automatically excluded any schools that dropped below 80%. Take the NCLEX rate with a grain of salt—2022 was a tough testing year due to the COVID-19 pandemic.
Debt & Earnings: College Scorecard provided us with data on BSN student debt and annual earnings (1 year and 4 year)—we factored all of these numbers into our calculations. We've highlighted median BSN earnings in our program profiles because we believe they are a strong indicator of value for money.
Affordability: We manually calculated the tuition costs for each Online RN to BSN and used this as a data point. The cost estimates in our program profiles include all mandatory fees (e.g. distance learning fee) and per semester costs. That's why our number may be different to what you see on the program website!
Reputation: We also considered U.S. News & World Report rankings because they do a good job of assessing the quality of a School of Nursing, including the graduate programs.
Once we had these factors in hand, we created an algorithm that weighed all of the data points equally (e.g. average debt, median earnings, completion rates, tuition costs, etc.). Schools that do well in many factors tend to rank highly. Schools that achieve in fewer areas may be lower on the list. That's why you'll spot a number of affordable public universities near the top.
Best Online RN to BSN Programs: How to Choose the Right Option
Find a program that fits your situation! Our rankings table is designed to let you see—at a glance—what you can apply for and what you can afford. Each link will take you straight to a program profile with details about the School of Nursing's clinical strengths, career connections, scholarships, and more. We've also included special "Insider Tips" to help you make a decision!
| RANK | SCHOOL OFFERING THE ONLINE RN TO BSN | IN-STATE PRICE | OUT-OF-STATE PRICE |
| --- | --- | --- | --- |
| 1. (Tie) | University of Central Florida (FL) | $5,376 | Compact State |
| 1. (Tie) | California State University – Fullerton (CA) | $8,911 | No Out-of-State RNs |
| 3. (Tie) | University of Florida (FL) | $3,875 | Compact State |
| 3. (Tie) | Stony Brook University (NY) | $28,031 | No Out-of-State RNs |
| 5. | CUNY Hunter College (NY) | $9,150 | No Out-of-State RNs |
| 6. | Florida International University (FL) | $8,367 | No Out-of-State RNs |
| 7. | University at Buffalo (NY) | $12,000 | $14,000 |
| 8. | University of Wisconsin – Madison (WI) | $13,560 | $13,560 |
| 9. | Rutgers University – New Brunswick (NJ) | $18,900 | No Out-of-State RNs |
| 10. | California State University – Sacramento (CA) | $7,602 | No Out-of-State RNs |
| 11. (Tie) | University of Rochester (NY) | $39,200 | $39,200 |
| 11. (Tie) | University of Hawai'i at Mānoa (HI) | $14,130 | No Out-of-State RNs |
| 13. | Ohio State University (OH) | $17,989 | $18,589 |
| 14. | University of North Carolina at Wilmington (NC) | $6,299 | $25,884 |
| 15. | University of Virginia (VA) | $17,447 | Hybrid Program |
| 16. | Clemson University (SC) | $21,324 | $21,324 |
| 17. (Tie) | University of Alabama at Birmingham (AL) | $17,600 | $17,600 |
| 17. (Tie) | California State University – Chico (CA) | $9,960 | No Out-of-State RNs |
| 19. | University of Alabama (AL) | $9,625 | $9,625 |
| 20. | Western Carolina University (NC) | $1,974 | $6,974 |
| 21. | University of Mississippi Medical Center (MS) | $12,900 | $13,350 |
| 22. | University of Wisconsin – Eau Claire (WI) | $12,783 | Minnesota Only |
| 23. | Arizona State University (AZ) | $19,468 | $19,468 |
| 24. (Tie) | James Madison University (VA) | $13,610 | $16,610 |
| 24. (Tie) | University of West Florida (FL) | $7,007 | $10,933 |
| 26. | Ohio University (OH) | $9,517 | $9,672 |
| 27. | University of Tennessee – Knoxville (TN) | $24,342 | $26,892 |
| 28. | Mississippi University for Women (MS) | $10,000 | Compact State |
| 29. | University of Iowa (IA) | $16,335 | $16,335 |
| 30. | Sacred Heart University (CT) | $11,700 | $11,700 |
You'll notice that a number of schools in our top 10 are only open to in-state RNs. That's good news if you live in Florida, California, and the New York/New Jersey area. These schools often have valuable clinical connections to local hospitals & academic medical centers. And they're inexpensive!
But don't despair if you're living elsewhere. Many Online RN to BSN programs in our top 30 come from flagship campuses with outstanding reputations. When we went digging for student opinions, we saw that quality being echoed on independent review sites.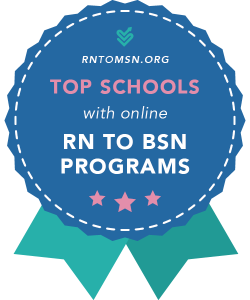 Rankings: Profiles of 2024's Best Online RN to BSN Programs
---
Tips on Applying for an Online RN to BSN
Preparing Your Application
Applying for an Online RN to BSN will involve a good deal of paperwork—most of the red tape is going to come in assessing your credit transfers. Always check the prerequisites & General Education requirements to see what might be expected.
If you're able to submit extra materials (e.g. career statement), think about why you're a good fit for this particular program. Use our program profiles to match your strengths to the program's strengths.
Associate Degree or Diploma in Nursing
Schools of Nursing will usually ask for an associate degree or diploma in nursing that's from a State Board of Nursing-approved program or is CNEA- or ACEN-accredited.
Some schools say they only want to see candidates with an associate's degree, but you can check if your diploma meets the credit requirements. RNs with a non-nursing bachelor's degree should also be able to apply.
Minimum GPA
A cumulative 2.0 GPA is the bare minimum for Online RN to BSN programs. Universities with strong academic reputations may have a GPA threshold of 2.5-3.2. "Cumulative" is the average of all your grades, not just the nursing courses. However, some school will also ask for your GPA on specific science courses.
Talk to the Online RN to BSN coordinator if your GPA doesn't meet the threshold. You may be able to take additional online courses (and earn a higher GPA) or provide proof of your work experience to show that you're able to handle the coursework.
RN License
Your RN license should be active & unencumbered. You will also need to know if the RN to BSN program has state limitations. For example:
In-State Only: Some public universities only accept online candidates who have a state RN license & state residency.
Neighboring States: Some schools are willing to look at online applicants in a certain geographic area (e.g. UW-Eau Claire will consider Minnesota RNs).
Compact State: Some schools will accept RNs with an NLC Multistate/Compact License.
Open to All: Some schools may simply ask that your RN license be in the state where you plan to complete your BSN practicums. However, be aware that most online programs outside of California will have trouble accepting CA RNs. California is still not part of NC-SARA.
Planning on earning the RN license in the near future? A healthy number of schools will grant you conditional acceptance until you have the chance to sit the NCLEX exam.
Work Experience
Occasionally, schools will ask to see proof of your RN work experience (e.g. minimum 6 months) and expect you to maintain RN employment throughout the degree. In some cases, like JMU's Online RN to BSN, they'll expect you to have a minimum number of practice hours before they'll grant you experiential learning credits.
These aren't hard-and-fast rules—some schools don't ask for any work experience. Check the admissions page for details.
Transfer Credits & Prerequisites
As we mentioned, a standard BSN is ~120 credits. Most schools will allow you to transfer up to 90 credits, which equates to approximately three-quarters of the bachelor's degree. In most cases, ~60 credits will come from your associate degree or diploma and ~30 credits will be granted to you for your RN license and work experience (e.g. proficiency credits).
When you apply, you'll have to provide proof that you've completed certain prerequisites, such as:
Science Credits (e.g. Anatomy & Physiology, General Chemistry, Sociology, Psychology, etc.)
General Education Credits (e.g. Statistics, English Composition, College Algebra, etc.)
Examine the Admissions and Curriculum sections to learn if you have the right courses to meet RN to BSN requirements—each school is going to have a different list of acceptable prerequisites. If you need to make up course credits, talk to the RN to BSN coordinator about the possibility of earning credits through Prior Learning Assessment (PLA) and CLEP or DANTES testing.
PLA allows students to submit proof of their expertise & learning through appropriate documentation. The school will assess the evidence and may award you academic credit for your prior experiences.
CLEP and DANTES are tests you can take to earn college credit for knowledge you acquired outside of a traditional classroom.
Just be aware that CLEP and PLA credits may not count toward your cumulative GPA.
International Requirements
Applicants who have a nursing diploma, degree, or the equivalent from a foreign institution are usually able to apply for Online RN to BSN programs. However, they may have to:
Earn a U.S. RN license
Take and pass an English profiency test (e.g. TOEFL, IELTS, etc.)
Provide an academic course-by-course evaluation of their nursing degree
Extra Requirements
Depending on the program, universities may also want to see a career statement, letters of recommendation, résumé, proof of immunizations & liability insurance, and the results of a criminal background check. This is a broad list—check the admissions section for details.
Online RN to BSN Coursework: What to Look For
Overall Curriculum
In a typical Online RN to BSN program, you're likely to encounter the following:
The fundamentals of AACN's Baccalaureate Essentials, including coursework that focuses on high-level nursing, community health, leadership/management skills, and critical thinking.
A lot of writing, research, class presentations, group projects, weekly discussions, and assigned readings.
Not a great deal of bedside patient care (you've already covered it with your RN & diploma or associate degree).
At least 30-36 credits of RN to BSN coursework.
The RN to BSN isn't geared toward nurses who want to focus on a clinical specialty (e.g. FNP). If you're interested in an APRN role, you should look at Online RN to MSN Programs.
High-Level BSN Nursing Courses
The bulk of your Online RN to BSN program is going to be devoted to 300- and 400-level nursing courses. Common classes include:
Evidence-Based Nursing
Leadership & Management in Nursing
Healthcare Delivery Systems
Health Assessment
Community Health
Pathophysiology
But this is just a small sample! Each School of Nursing will tailor the curriculum to highlight its strengths. For example:
As a Christian institution, Indiana Wesleyan University has Online RN to BSN courses on Transcultural Healthcare, Parish Nursing/Faith Community Nursing, and Nursing from a Christian Worldview.
Fitchburg State has Online RN to BSN credits in Social Justice, Genomics, and Caring for Forensic Populations.
Take a moment to dig into the curriculum and see if it aligns with your career goals.
Field Work/Practicums
Although Online RN to BSN programs don't need to train you in clinical work for licensure, they will still contain practicums. These are usually classed as "field experiences" rather than bedside clinical rotations.
You'll see a lot of field experiences being incorporated into the final Nurse Leadership capstone, Health Assessment, and/or Community & Public Health courses. For example, GSW has a Community Health course with practicums that can take place in a range of facilities (e.g. public health, school health, correctional care, rural care, etc.). You may also be able to complete practice hours in your place of employment.
Ask the RN to BSN program coordinator if the school helps with practicum placements. Universities such as California Baptist University and Washington State University assist local students. If you are out-of-state, you could be responsible for organizing your own preceptors and sites.
Nursing Electives
A number of Online RN to BSN programs will allow you to choose electives. Electives can be focused (e.g. Global Health Promotion, Planning Health Programs, etc.) or broad (e.g. any upper division elective). A few schools even offer unique global experiences.
Electives give you the chance to tailor the degree to your needs! For example:
Career Preparation: You could choose to specialize in an area like School Nursing or Mental Health; dig deeper into science subjects like Clinical Pharmacology; or focus on a topic that relates to your current job (e.g. End of Life Care).
State Certification: In some cases, you may be able to include courses that prepare you for state certificates (e.g. Public Health).
Graduate Study: If you're considering an MSN or DNP the future, you may be able to take a few graduate-level nursing courses and save money later on.
General Education Courses
General Education credits are usually taken care of during credit transfers, but not always. For example, Alverno's Online RN to BSN includes 16 credits of Liberal Arts and 4 credits of Statistics. Check the curriculum section for details.
Online RN to BSN: Real-World Factors
You're working. You have friends & family. You want time for sleep. If this sounds like you, here are a few real-world factors to consider:
Time Commitment: Schools with a strong academic reputation are going to demand more of your time (e.g. 10 or more hours per course per week); schools with weaker expectations will require less. Talk to recent RN to BSN alumni before you make a decision.
Part-Time vs. Full-Time: Working and studying full-time is achievable, but it will be challenging, especially if you're slow with research and writing papers. Schools know this, which is why they offer flexible scheduling. Many RNs end up choosing full-time work and part-time study.
Affordability: Weigh up the benefits of quality & reputation with the cost—some of the Best Online RN to BSN Programs may be pricey. If you're really watching your budget, we've have a list of the Cheapest Online RN to BSN Programs in the country.
Online Support: Not all Online RN to BSN Programs are created equal. Shoddy programs will have instructors who never get back to you, buggy software, and frustrating technical instructions. Good programs will have sophisticated online tools, 24/7 technical support, virtual advising sessions, and well-reviewed professors.
Career Applicability: The best Online RN to BSN Programs will have courses that relate to your job goals; they will include plenty of opportunities to network with mentors at healthcare institutions; and they will give you time & space to form connections with peers.
FAQs: Best Online RN to BSN Programs
How Do I Choose an Online RN to BSN Program?
Start with Programs in Your State: Public universities can offer in-state tuition rates, RN to BSN discounts & scholarships, help with practicum placements, and an easy admissions process (you don't have to worry about whether your RN license will qualify).
Talk to Your Employer About Educational Partnerships: Many Schools of Nursing have longstanding relationships with hospitals & health systems. These schools may hand out sizeable tuition discounts to employees of partner institutions.
Skim Through Our Rankings: Check out the list of Best Online RN to BSN Programs for quality; the Cheapest Online RN to BSN Programs for budget; and the Fastest Online RN to BSN Programs for speed.
Examine the Admissions Section First: If you're not eligible to apply, you've saved yourself a lot of research time.
Consult the Curriculum Section Next: Look for BSN coursework that matches up with your goals (e.g. leadership & management, public health, transcultural nursing, etc.).
Evaluate Quality Markers: Consider the School of Nursing's reputation. Does it have strong connections to healthcare institutions and potential employers? Are the instructors well-liked? What are the NCLEX & NP certification pass rates?
Reach Out to Alumni: The people who will know the most about an Online RN to BSN are the ones who recently graduated from it. Some Colleges of Nursing post stories about alumni, but you can also search LinkedIn or ask the program coordinator about how to contact former students.
Is a BSN Worth the Effort?
The answer is: it depends. We've seen some graduates complain that the BSN is just a pile of theoretical fluff that is only good for satisfying employer demands. But we've seen others who said that they gained a lot of practical & educational benefits from the degree. Our RN vs. BSN guide takes a closer look at the career implications of being an RN vs. a BSN Nurse.
An Online RN to BSN program may be worth your while if you wish to:
Work in a Magnet Facility, Established Hospital, or Academic Health Center: They may require—or strongly prefer—to see that new hires have a BSN on their résumé.
Serve as a Military Officer: An BSN is required to become an officer in the Army, Navy or Air Force Nurse Corps.
Practice in New York: New York RNs are now required, by law, to earn a BSN within 10 years of being licensed as an RN. Other states have been considering similar measures.
Apply for Leadership or Management Positions: If you aim to run a unit, you may need a BSN to apply for the job.
Ask for a Raise: You'll have more clout in salary negotiations with a bachelor's degree in hand.
Take Advantage of Employer Reimbursement: Hospitals and healthcare institutions are often willing to help subsidize education.
The choice is going to depend on your location (e.g. big medical city vs. rural area); your employer's preferences; your current budget; your earning potential; and your long-term goals. When in doubt, examine current job descriptions for guidelines and talk to local BSN graduates about their experiences. LinkedIn users usually list their degree and alma mater in their profile.
Online RN to BSN or Online RN to MSN?
This is a judgement call—both degree pathways involve time & money, though the Online RN to BSN will be cheaper than the Online RN to MSN. Before you make your decision, have a look at our section on RN to BSN vs. RN to MSN. This lays out the core arguments.
If you have a particular APRN specialty in mind, we highly recommend you consider Online RN to MSN Programs. You're going to need the master's degree for certification. If you're not sure of your career direction, you might want to consider an Online RN to BSN that provides BSN graduates with a streamlined transition into an MSN or DNP program (check for alumni discounts). You can earn a BSN and keep your options open.
What is an RN to BSN Bridge Program?
It's the same as an RN to BSN program. They are called "bridge" or "degree completion" programs because they're helping you bridge the gap from your associate's degree or diploma in nursing to a bachelor's degree. LPN to BSN and RN to MSN programs are bridge programs as well.
I'm an LPN: Can I Enter an Online RN to BSN Program?
No. Online RN to BSN programs are targeted at current RNs or those on the verge of RN licensure. However, there are accredited LPN/LVN to BSN programs that will help you earn a BSN and prepare you for RN licensure. They also come in a variety of formats: on-campus, online, or hybrid. Keep in mind that LPN/LVN to BSN programs tend to take 2+ years to complete.
How Much Does an Online RN to BSN Cost?
There's a huge amount of variation. Low-end programs may be in the range of $150 per credit; high-end programs could be as much as $900+ per credit. But a good portion of Online RN to BSN programs will be in the range of $300-$500 per credit. This is before you factor in any partner discounts or state tuition breaks. If money is tight, check out our list of the Cheapest Online RN to BSN Programs.
What are Accelerated/Fast-Track RN to BSN Programs?
The language is fuzzy here.
Some universities label their RN to BSN programs as "accelerated" or "fast-track," when they're just the same as any other RN to BSN program in the country.
However, you may also encounter "accelerated" programs that are aimed at RNs who already have a non-nursing bachelor's degree (usually in science, psychology, or a related field) or a lot of extra nursing & science prerequisite credits.
When in doubt, have a look at our program listings and talk to the program coordinator. We've also assembled a list of the Fastest Online RN to BSN Programs.
What Jobs Can I Get with a BSN?
RNs with a BSN in hand can end up applying for positions such as:
Critical Care/ICU Nurse
Medical/Surgical Nurse
Operating Room/Perioperative Nurse
Pediatric Nurse
Public Health Nurse
Hospice Nurse
Oncology Nurse
Labor & Delivery Nurse
Gerontology Nurse
Nurse Manager
Health Educator
Case Manager
Quality Coordinator
Medical and Health Services Manager
Nurse Consultant
Best RN to BSN Online Programs by State
Not finding what you need in our Best Online RN to BSN Rankings? Start with your local territory. Each state section contains shortened rankings of the Best, Cheapest, and Fastest Online RN to BSN programs in the area. You may find a top-tier program from a public university that offers incredible in-state tuition rates, a loan forgiveness program, or even a partnership with your current employer.