Best RN to BSN Online Programs in Nevada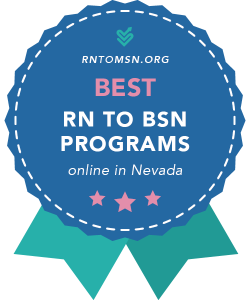 1. University of Nevada-Reno
Interested in convenience? Put UNR's 100% Online RN-BSN on your shortlist. The Orvis School of Nursing (OSN) is the oldest school of nursing in Nevada and it's known for its sturdy NCLEX pass rates (e.g. low-mid 90s), invested faculty & instructors, and competitive programs. Independent reviewers say that OSN students should be ready to work hard and study hard. UNR might be a good pick for RNs who are interested in leadership positions—the curriculum contains a lot of real-world topics (e.g. quality measurement, healthcare policy & financing, global health, leadership applications, etc.). OSN also offers concurrent ADN/AAS enrollment and Online DNP options, including a BSN to DNP pathway.
Cheapest RN to BSN Online Programs in Nevada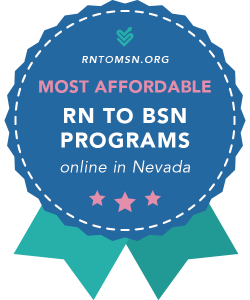 The cheapest Online RN to BSN programs in Nevada are going to come from non-UN schools. The total tuition cost for NSC is very affordable; prices for TUN and GBC are just over $10,000. You might also want to take a look at our rankings of the Most Affordable Online RN to BSN Programs in the country.
1. Nevada State College
NSC is admirably up-front about its tuition costs. The in-state price—including fees—is less than $8,000. The out-of-state price is less than $9,000. If you have to take additional general education courses for prerequisites, the price will obviously go up.
Fastest Online RN to BSN Programs in Nevada
To appear in our Fastest rankings, Nevada Online RN to BSN programs had to take less than 1 year/3 semesters on a full-time basis. UNLV's program is on hold, so we recommend you expand your search to out-of-state options. Check out our rankings of the Fastest Online RN to BSN Programs in the country (ranked by speed & price). There are a number of self-paced programs in there!
RN to BSN Scholarships in Nevada
Statewide Scholarships for Nevada RN to BSN Students
Nevada Nursing Organization Scholarships
Once you've explored all the national awards out there for RN to BSN students (e.g. AfterCollege/AACN), try applying for Nevada-based scholarships from state nursing organizations. Your two best bets will be:
Nevada Healthcare System & University Partnerships
Do you work for a Nevada healthcare system or hospital? Talk to your HR representative about your education plans. You may be eligible for all kinds of employee benefits, including tuition discounts (e.g. TUN's Valley Health System (VHS) Partnership), tuition reimbursement, loan forgiveness programs, and even special scholarships (e.g. CVMC Hospital Foundation Scholarships).
Nevada Community Foundation Scholarships
You might also want to take a moment to find your local Community Foundation in NV and ask about scholarship opportunities. Foundations often give out a ton of education awards to local residents. Although most scholarships will be reserved for recent high school graduates, there are often funds for continuing learners.
University Scholarships for Nevada RN to BSN Students
Institutional aid in Nevada will depend on the school. NSC has foundation scholarships for nursing majors. TUN has tuition discounts for VHS employees. We've also included links to general, university-wide scholarships. Just keep in mind that many of these awards will be aimed at "traditional" 4-year undergraduates.
Great Basin College
Nevada State College
Touro University Nevada
University of Nevada-Reno
RN to BSN Requirements in Nevada
RN Licensure: Online RN to BSN degrees are classified as "post-licensure" programs. Nevada universities will want you to have—or be in the process of earning—an RN license. If you're still waiting to sit the NCLEX exam, you may still be able to apply. For example:
Questions about Nevada RN licensure can be directed toward the Nevada State Board of Nursing. The Board also posts recent NCLEX Pass Rates for Nevada Schools. These statistics don't cover post-licensure programs, but we always like to look at them to gauge the overall quality of a School of Nursing.
State Authorization: Do you live outside of Nevada? Before you begin filling in forms, just double-check that you're eligible to apply. Because of state authorization rules, some Nevada Online RN to BSN programs may not be able to accept certain RNs. For example, NSC's 100% Online RN to BSN has some state exceptions.
Frequently Asked Questions
Are 100% Online RN to BSN Programs in Nevada Available?
Absolutely. Almost all of the Online RN to BSN programs in our Nevada listings are 100% online, with no campus visits required. Having said that, you will still have to complete BSN-level practicums in your home area and/or place of employment.
Can I Choose a "No Clinicals" Online RN to BSN in Nevada?
Not really. Because of accreditation rules, CCNE- and ACEN-accredited Online RN to BSN programs almost always include on-the-ground practicums and fieldwork experiences.
Do I Need Statistics to Apply for Nevada Online RN to BSN Programs?
Maybe. Check the curriculum & admissions links in our listings and talk to the RN to BSN program coordinator. If statistics is required, you may be able to take it as a "co-requisite" while you are completing the RN to BSN degree. Many schools will allow you to do this before you take any 300- or 400-level research-based course.
Are There Any Online RN to BSN to MSN Programs in Nevada?
Not that we could find. Browse through the online offerings in our listings of RN to BSN to MSN Programs. There are plenty of options from other states.
Nevada RN to BSN Online Schools