Best RN to BSN Online Programs in Louisiana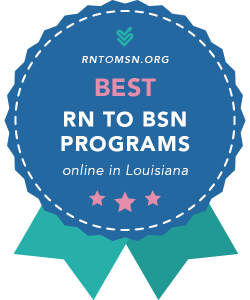 1. University of Louisiana at Lafayette
ULL's 100% Online RN to BSN is an incredibly popular choice in Louisiana—more than 50% of RNs in the state choose this challenging & well-reviewed program! That's probably because it's convenient (e.g. 4 start dates), relatively affordable, and backed by a big name. ULL's Department of Nursing is an NLN Center of Excellence with great NCLEX pass rates and an Online MSN. We like the fact that the Online RN to BSN is thoughtfully planned—the curriculum includes unique coursework in disaster training. Better yet, there's no expiration date for General Education (GE) credits.
2. University of Louisiana Monroe
ULM's 100% Online RN to BSN runs a close second to ULL! The Kitty DeGree School of Nursing isn't a big research powerhouse, but it's a well-established school with top-notch NCLEX pass rates (e.g. 95%+) and a superb record in job placement after graduation (e.g. 100%). And it offers Online MSN programs in APRN specialties. If you're a student in the Louisiana Community and Technical College System, be sure to ask about transfer pathways. Graduates with associate nursing degrees from any of the 12 institutions affiliated with LCTCS qualify for a special tuition rate on the Online RN to BSN program.
3. Northwestern State University of Louisiana
The #3 Best spot in Louisiana goes to NSULA's super-affordable Online RN to BSN. It's offered by a College of Nursing & School of Allied Health with strong NCLEX pass rates, excellent independent reviews, and a commitment to quality. The College actually tracks Nursing Program Outcomes, including employer satisfaction statistics. In this 100% online program, you'll take 8 courses, including two 5-credit practicums that can be completed in your local community. Transferring from a Louisiana ADN program? NSULA has articulation agreements with a number of Louisiana colleges & universities.
Cheapest RN to BSN Online Programs in Louisiana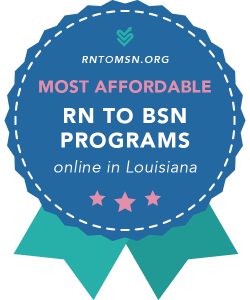 Louisiana is a highly affordable state for Online RN to BSN programs! For our Cheapest LA rankings, we've featured degrees that are under $9,000 in total tuition. You'll see some of them pop up in our rankings of the Most Affordable Online RN to BSN Programs in the country. If you're willing pay between $9,000-$10,000, you could also consider McNeese (which is even cheaper with the Preferred Tuition Rate), ULL, Southeastern Louisiana, and Nicholls State!
1. Northwestern State University of Louisiana
NSULA's 100% Online RN to BSN is offered at a flat tuition rate. Prices are the same for in-state and out-of-state students; military & dependents are eligible for a a heavily discounted military tuition rate. There are no mandatory fees, but there will be a one-time application fee.
2. Louisana College
Tuition for Louisiana College's 100% Online RN to BSN is charged at a special rate. When you do the math, the program ends up being ~$1,500 more than NSULA. Louisiana College is a private Christian school, so prices are the same for all students, regardless of their state of residence.
3. University of Louisiana Monroe
Tuition for ULM's Online RN to BSN is very straightforward. All in-state and out-of-state students pay the same affordable per credit rate. This rate also applies to any General Education (GE) credits you may need to complete. In total, ULM's program is around $500 more than Louisiana College.
Fastest Online RN to BSN Programs in Louisiana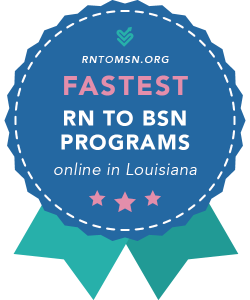 Our Fastest LA rankings are limited to Online RN to BSN programs that take less than 1 year/3 semesters to complete on a full-time schedule. You'll notice that many other programs in Louisiana will take 12 or 14 months. If you'd like to investigate extra-quick options, check out our rankings of the Fastest Online RN to BSN Programs in the country.
1. McNeese State University
On a turbo-charged schedule, McNeese's 100% Online RN to BSN takes 10 months. Accelerated classes are 7-weeks long, with a 1-week break between each course. So you might end up taking two BSN-level courses—including practicums—every two months (10 courses = 30 credit hours). There are 6 separate start dates every year.
RN to BSN Scholarships in Louisiana
Statewide Scholarships for Louisiana RN to BSN Students
Louisiana Nursing Organization Scholarships
Aspiring Louisiana RN to BSN students should start with state & city nursing organizations. A number of associations offer scholarships for continuing education. Examples include:
Louisiana Community Foundation Scholarships
We also recommend you find your local Community Foundation in Louisiana and ask about education awards. Although most foundations save their funds for recent high school graduates, there are exceptions. For example, the Greater New Orleans Foundation (GNOF) offers the Jo Ellen Smith Scholarship to nursing students.
Louisiana Healthcare System & University Partnerships
Do you work for a Louisiana hospital or healthcare system? Talk to your HR representative about your education dreams! As an employee, you may be eligible for tuition reimbursement, tuition discounts, loan forgiveness, and a whole lot more. For example:
Some LA universities even offer partnership discounts for Online RN to BSN programs. For instance:
University Scholarships for Louisiana RN to BSN Students
With the exception of ULL and Southeastern, we didn't find a lot of internal aid for online nursing students at Louisiana universities. And many institutional scholarships are only open to "traditional" 4-year undergraduates. However, we did unearth some tuition discounts that might be of use!
Franciscan Missionaries of Our Lady University
Louisiana College
Louisiana State University
Loyola University-New Orleans
McNeese State University
Nicholls State University
Northwestern State University of Louisiana
Southeastern Louisiana University
Southern University and A&M College
University of Louisiana at Lafayette
University of Louisiana Monroe
RN to BSN Requirements in Louisiana
RN Licensure: Online RN to BSN degrees are classified as "post-licensure" programs. That means Louisiana universities will expect you to have—or be in the process of earning—an RN license. Some LA schools may allow you to apply before you have passed the NCLEX exam. Check the admissions section for details.
State Authorization: Do you live outside of state?
Frequently Asked Questions
Are 100% Online RN to BSN Programs in Louisiana Available?
Absolutely. Almost all—if not all—Online RN to BSN programs in our Louisiana listings are 100% online with no on-campus requirements. And they are all CCNE- or ACEN-accredited. So you can truly have your pick!
Can I Choose a "No Clinicals" Online RN to BSN in Louisiana?
Not really. Because of accreditation regulations, Online RN to BSN programs in Louisiana will almost always contain on-the-ground practicums. But fear not! These experiences won't be like your associate degree or diploma in nursing clinicals.
In Louisiana, BSN-level practicums tend to focus on fieldwork in two areas: Community/Public Health Nursing and Leadership & Management. You'll see these elements in programs from NSULA, ULM, McNeese, Louisiana College—the list goes on. You'll typically be able to tackle practicums in your local community and current workplace.
Do I Need Statistics to Apply for Louisiana Online RN to BSN Programs?
Not necessarily. Statistics is still a standard requirement at many Louisiana schools, but you may not need to have it when you apply. At places like ULL and ULM, you can take math/statistics as a "co-requisite"—that means you can complete General Education (GE) credits at the same time as RN to BSN credits.
If you're interested in a program from a Christian university like Louisiana College, keep in mind that religion credits may also be listed as prerequisites.
Louisiana RN to BSN Online Schools