Best RN to BSN Online Programs in Kentucky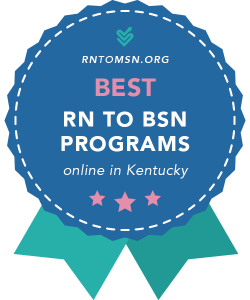 1. University of Louisville
Interested in urban health? Put UofL on your Kentucky shortlist. The total price of its 100% Online RN to BSN is only slightly more than NKU and the program comes with great metropolitan connections. Thanks to a strategic location in UofL's Health Sciences Center (HSC), the School of Nursing has links to many healthcare partners, including University of Louisville Hospital and Norton Children's. KCTCS students are eligible for easy transfers. And independent reviews are excellent. Nursing alumni praise the experienced instructors and challenging coursework.
2. University of Kentucky
UK's 100% Online RN-BSN fully deserves our #2 spot! The College of Nursing is an NLN Center of Excellence with strong national rankings, superb NCLEX pass rates, and a solid track record in job placements for graduates. As a big public school, it receives plenty of funding for healthcare research and nursing faculty are active in practice. It even runs its own Community Health Center. If you're looking for a program with a great state reputation and plenty of clinical connections, you've found it.
3. Northern Kentucky University
Fast, affordable, and 100% online—these are just a few reasons to take a look at NKU's Online RN to BSN. We also like the fact that this flexible program features straightforward pricing—online rates are the same for everyone, with all fees included—and 21st century coursework (e.g. Genetics). In addition to achieving strong NCLEX & certification pass rates, NKU's School of Nursing runs a dedicated Nurse Advocacy Center for the Underserved (NACU) and works closely with St. Elizabeth Medical Center on research-based, community-driven interventions.
Cheapest RN to BSN Online Programs in Kentucky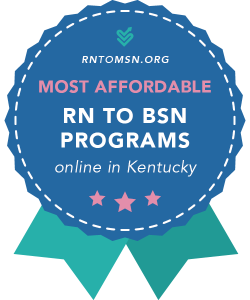 Kentucky is a pretty affordable state for the Online RN to BSN! For our Cheapest KY rankings, we kept the price threshold to $8,000 or under for total tuition, but there are also a number of programs in the $10,000-$11,000 range (e.g. NKU and UofL). Feel free to compare them with our rankings of the Most Affordable RN to BSN Programs in the country.
1. Union College
To enroll in Union's Online RN to BSN, you must have a license to practice nursing in Kentucky or a Compact state. If you meet this requirement, costs will be very manageable. All online students pay the same tuition rate, with no out-of-state fees. Union also has agreements with a variety of healthcare facilities in Kentucky—you can complete any clinical work close to home.
2. University of the Cumberlands
The total cost of UC's 100% Online RN to BSN will depend on your credit number. In general, a minimum of 30 credits must be completed at UC. However, if you need to take 300-level courses like Statistics and Pathophysiology, you'll be paying a bit extra. View the coursework for more details. Even so, the price is still eminently affordable for in-state and out-of-state students!
3. Murray State University
If you don't need any additional prerequisites or co-requisites, Murray State's 100% Online RN to BSN is similar in price to Union and UC. And tuition rates are the same for all online students, regardless of their state of residency. Just keep in mind that courses will be assessed a per credit hour online course fee; additional course fees may also apply.
Fastest Online RN to BSN Programs in Kentucky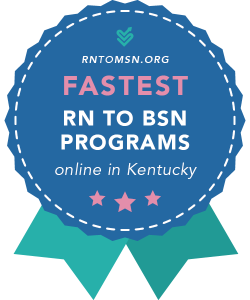 To appear in our Fastest KY rankings, programs had to be less than 3 semesters/1 year. Need something that's even quicker? See the self-paced options in our rankings of Fastest Online RN to BSN Programs in the country.
1. Kentucky State University
On a full-time schedule, you'll be able to finish this ACEN-accredited Online RN to BSN in 2 semesters. It's a turbo-charged plan of a study—you'd take 6 courses in the first semester, including a Public Health Nursing Practicum, and 6 courses in the second semester, including a Nursing Leadership Practicum and Capstone.
2. Northern Kentucky University
NKU states that motivated, full-time students can finish its 100% Online RN to BSN in 10 months. Part-time study is also available. Courses are 7 weeks long and the program has 6 start times per year. See the Calendar tab for admissions deadlines and sample start dates.
RN to BSN Scholarships in Kentucky
Statewide Scholarships for Kentucky RN to BSN Students
Kentucky Nursing Organization Scholarships
Kentucky RNs can start by applying for awards offered by Kentucky nursing organizations. Your best bets will be:
But you may also qualify for KY nursing scholarships that are aimed at specific groups. For example:
Kentucky Community Foundation Scholarships
Once you've applied for relevant national & statewide nursing awards, take a minute to find your local Kentucky Community Foundation and explore their scholarship section. Although most awards will be reserved for high school graduates, there are exceptions! Examples include:
Kentucky Healthcare System & University Partnerships
Do you work for a Kentucky-based hospital or healthcare system? Talk to your HR representative about your career plans. Many employers offer educational benefits to working nurses (e.g. Norton Health Tuition Assistance and Owensboro Health – Financial Assistance).
In some cases, your employer may have a university partnership program. For instance:
University Scholarships for Kentucky RN to BSN Students
Big Kentucky universities are going to offer the most internal aid—UK's College of Nursing Scholarships include awards for RN-BSN students! Under each KY school, we've also featured links to university-wide scholarships, but make sure that online, upper division students are eligible to apply. For instance, general UC scholarships are only open to traditional, 4-year undergraduates.
Beckfield College
Campbellsville University
Eastern Kentucky University
Galen College
Kentucky Christian University
Kentucky State University
Midway University
Morehead State University
Murray State University
Northern Kentucky University
Spalding University
Thomas More University
Union College
University of Kentucky
University of Louisville
University of Pikesville
University of the Cumberlands
RN to BSN Requirements in Kentucky
RN Licensure: Online RN to BSN degrees are classified as "post-licensure" programs. That means Kentucky universities will expect you to hold—or be in the process of earning—an RN license. If you're still working on passing the NCLEX exam, you may have a little bit of wiggle room. For instance:
The Kentucky Board of Nursing can help answer any questions on state licensure. The Board also posts recent NCLEX Pass Rates and Kentucky Program of Nursing Benchmarks. Although pass rates don't apply to post-licensure programs, they're a useful quality marker.
State Authorization: Do you live out-of-state? Before you fill out the application form, check the admissions section and fine print on state authorizations. A few schools have certain restrictions on whom they can accept.
Advice from Kentucky Nurse Educators
How to Find the Best Program for Your Needs
Graduating from an accredited nursing program and passing NCLEX are the first two most important goals to accomplish when one is pursuing the journey of becoming a nurse. Most programs are either the ASN or BSN tracks, although a few diploma programs do still exist. If one begins from the ASN track, most employers will pay for the individual to achieve their BSN. BSN tracks can be traditional or online format and vary in length of time for completion. Again, when looking for what program best fits your needs, look at the format of delivery (in person, hybrid, or online), class delivery (traditional semester vs. 8-week courses) and length of time for completion. You also want to look at the program's framework, mission, and values and see if those are something you want to relate to and represent.
How to Juggle Work and School Commitments
Now that you have become a RN and decided to continue your education, you must juggle life and school. The best advice I can give is to maintain a schedule. Literally use a planner whether the calendar on your phone or on your fridge and make "appointment" times for everything. Set aside time for study, homework, dinner, work, family obligations, and sleep. You must maintain a balance to prevent becoming overwhelmed, stressed, and negative outcomes. Keep a schedule, stay hydrated, get adequate rest, and you will be on your way to accomplishing your goals that you have set.
Frequently Asked Questions
Are 100% Online RN to BSN Programs Available in Kentucky?
Yes. In fact, almost all programs in our Kentucky Online RN to BSN listings are 100% online, with no campus visits required. You can truly have your pick! Just keep in mind that you'll still be expected to complete practicums in your home community.
Can I Choose a "No Clinicals" Online RN to BSN in Kentucky?
Not really. Because of CCNE and ACEN accreditation rules, RN to BSN programs invariably include clinical practicums. Having said that, practicums at the BSN level often include on-the-ground training in community health and leadership. For example:
You'll usually be able to fulfill clinical requirements at healthcare sites within your community and your current workplace.
Do I Need Statistics to Apply for Kentucky Online RN to BSN Programs?
Maybe. Check the admissions requirements in our listings for details. If you don't have statistics before you apply, some universities will allow you to take it as a co-requisite (e.g. Murray State, NKU, etc.). That means you'll be taking—and paying for—a course in statistics while you work on Online RN to BSN coursework.
Are There Any Online RN to BSN to MSN Programs in Kentucky?
We had trouble finding any in Kentucky. Unfortunately, FNU discontinued its Online ADN to MSN pathway in 2020. And NKU is only willing to consider RNs with a non-nursing bachelor's degree for its 100% Online MSN programs.
If you're interested in pursuing a graduate degree, but you need the BSN for employment purposes, check out our guide to RN to BSN to MSN Programs. There are some online options in there.
Kentucky RN to BSN Online Schools