Best RN to BSN Online Programs in Idaho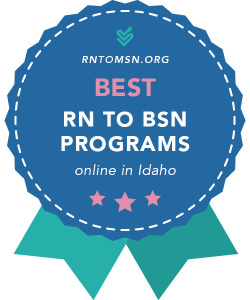 1. Lewis-Clark State College
Program: Online RN to BSN
RN to BSN Credits: 25
Length: 2 Semesters/9 Months (Full-Time); 3-5 Semesters (Part-Time)
Accepts Out-of-State RNs: Yes
Fast, affordable, and academically strong—these are just 3 reasons why LCSC's 100% Online RN to BSN takes the top prize in Idaho. The Division of Nursing & Health Sciences (NHS) has come up with a convenient program that includes real-world coursework, population health & leadership practicums, and an optional elective for the Certificate in Nursing Management & Leadership. We particularly like the fact that the NHS receives superb independent reviews from former students. BSN alumni loved the low student-to-teacher ratio, the helpful & friendly faculty, and the challenging & up-to-date coursework.
Note: All of the other picks in Idaho—BSU, NNU, and ISU—are well-worth considering. Check out their recent NCLEX pass rates, chat to your supervisor, and talk to recent alumni before you make a choice.
Cheapest RN to BSN Online Programs in Idaho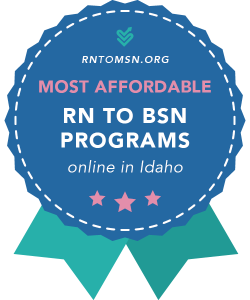 Idaho is a fairly affordable state for Online RN to BSN students! For our Cheapest ID rankings, we've included any programs that were under $10,000 in total tuition. You may wish to compare them to degrees in our rankings of the Most Affordable Online RN to BSN Programs in the country.
1. Lewis-Clark State College
LCSC's provides an excellent cost breakdown for its 100% Online RN to BSN. We used 25 credits for our calculation because that's the number of credits listed in the sample plans of study. In your planning, you will have to consider estimated costs for textbooks and Escrow Credits. Most 2-year RN transfer students will need approximately 10-14 escrow credits.
2. Northwest Nazarene University
The total tuition cost for NNU's 100% Online RN to BSN will depend on your transcripts. You're allowed to transfer up to 62 credits from a 2-year institution. You'll also receive 40 credits for the NCLEX exam. Be sure to include the mandatory per semester technology fee in your budget.
Fastest Online RN to BSN Programs in Idaho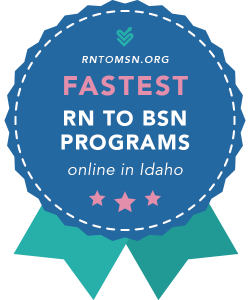 To be considered speedy, Online RN to BSN programs in our Fastest ID rankings had to be available in a format that took less than 1 year/3 semesters on a full-time basis. You'll also see this school appear in our rankings of the Fastest Online RN to BSN Programs in the country.
1. Lewis-Clark State College
Program: Online RN to BSN
RN to BSN Credits: 25
Length: 2 Semesters/9 Months (Full-Time); 3-5 Semesters (Part-Time)
Accepts Out-of-State RNs: Yes
LCSC's 100% Online RN to BSN is available in multiple schedules:
On a full-time plan, you can charge through the curriculum in 2 semesters, taking 5 courses in the first semester (12 credits) and 5 in the second (13 credits). Each semester would include a practicum in population health or leadership.
LCSC also offers a 3-semester plan, a 5-semester plan, or a "build your own schedule." On average, RNs with full-time jobs end up choosing 4 semesters/16 months. You can enroll in one class at a time or take the summers off.
Note: If you live near ISU's Pocatello campus, you might also wish to consider the Hybrid BSN Completion Program for RNs. It can be completed in as little as 2 semesters.
RN to BSN Scholarships in Idaho
Statewide Scholarships for Idaho RN to BSN Students
Idaho Nursing Organization Scholarships
Unlike other state nursing associations, ANA-Idaho doesn't appear to offer any foundation scholarships. However, depending on your goals & role, you could qualify for awards from specialty organizations (e.g. Idaho Health Care Association Foundation (IHCAF) Scholarships).
Idaho Healthcare System & University Partnerships
Do you work for an Idaho hospital or healthcare system? Talk to your HR representative. As an employee, you may be eligible for all kinds of education benefits, including program discounts, tuition reimbursement, loan forgiveness, and more.
Idaho Hospital Scholarships
You can also look into scholarships from individual ID hospitals. Examples include—but are not limited to!—
Idaho Community Foundation Scholarships
Idaho Community Foundation (ICF) Scholarships are available to Idaho residents in every county. In particular, check out the statewide awards for adult learners and students in health professions.
University Scholarships for Idaho RN to BSN Students
Institutional aid will vary from school to school. Big state universities (e.g. ISU) will usually have the most funds for nursing students. We've also included links to general, university-wide scholarships. Just remember that many of these awards will be limited to "traditional" 4-year undergraduates.
Boise State University
Idaho State University
Lewis-Clark State College
Northwest Nazarene University
RN to BSN Requirements in Idaho
RN Licensure: Online RN to BSN degrees are classified as "post-licensure" programs. Idaho universities will expect you to have—or be in the process of earning—an RN license. For example:
BSU's 100% Online RN-BS allows candidates to apply to the program and begin taking pre-licensure courses prior to taking the NCLEX. However, you will need to pass the NCLEX before enrolling in any courses that require the RN license. (BSU also offers Dual Enrollment.)
LCSC's 100% Online RN to BSN requires aspiring RNs to provide a written statement regarding their plans to complete the NCLEX exam.
The Idaho Board of Nursing (IBN) can help with any questions related to state RN licensure. IBN also posts recent NCLEX Pass Rates for board-approved Idaho schools. BSN-level statistics don't apply to post-licensure programs, but they're always a useful quality marker!
State Authorization: Do you live outside of Idaho? Before you fork over your application fee, just double-check that you're eligible to apply. Most Idaho schools appear happy to accept RNs from any state, but it never hurts to ask the RN to BSN program coordinator. Sometimes state authorization rules can get in the way.
Frequently Asked Questions
Are 100% Online RN to BSN Programs in Idaho Available?
Yes. Programs from LCSC, NNU, and BSU are 100% online, with no campus visits required. Bear in mind that you will still have to complete BSN-level practicums in your local community and/or place of employment.
Should I Consider a Hybrid RN to BSN in Idaho?
Yes. Anyone living near ISU's Pocatello campus, should check out the fast & affordable Hybrid BSN Completion Program for RNs.
Classes are blended, with face-to-face and online elements, and clinical experiences can be completed in your local Idaho community.
Coursework can tackled in as little as 2 semesters on a full-time schedule and dual enrollment pathways are available.
See the RN to BSN budget for a complete rundown of costs.
Can I Choose a "No Clinicals" Online RN to BSN in Idaho?
Not really. Because of accreditation rules, CCNE-accredited Online RN to BSN programs will almost always include fieldwork experiences. However, BSN-level practicums aren't like clinicals in the diploma or associate degree. Instead, they will provide training in community health & leadership. For instance:
In BSU's 100% Online RN-BS, you'll complete 2 clinically based & faculty mentored project courses—one project is community health-oriented and the other is a leadership project.
LCSC's 100% Online RN to BSN includes two practicums—one in Population Health and one in Leadership for the RN.
Do I Need Statistics to Apply for Idaho Online RN to BSN Programs?
Statistics is required at LCSC, BSU, and NNU (as a "Math Proficiency"), but you may not need to have it when you apply. For example:
At LCSC and BSU, you're allowed to take statistics as a "co-requisite" during the first semester of your RN to BSN coursework.
NNU is a Christian university, so it has an additional 3-credit Theology prerequisite.
Are There Any Online RN to BSN to MSN Programs in Idaho?
We didn't find any! However, there are plenty of options in other states—have a look at the online offerings in our listings of accredited RN to BSN to MSN Programs. These accelerated programs will allow you to earn a BSN and an MSN in a shortened time-frame.
Idaho RN to BSN Online Schools