Best RN to BSN Online Programs in Iowa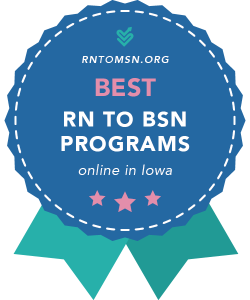 1. University of Iowa
Program: Online RN to BSN
RN to BSN Credits: 32
Length: 3 Semesters (Full-Time); 5 Semesters (Part-Time)
Accepts Out-of-State RNs: Yes
UI fully deserves its #1 spot! The College of Nursing is stacked with quality markers, including excellent NCLEX pass rates, top-ranked graduate programs, and a tight relationship with UI Hospitals & Clinics— one of the largest teaching and research hospitals in the country. The Online RN to BSN gets rave reviews and it's strong on real-world elements. The curriculum includes credits in Healthcare Finance and Improving Health Systems, as well as unique clinical practicums and a quality improvement project.
Note: Current community college students should check out the RN to BSN 3+1 agreements. Aspiring NPs & nurse leaders can consider the Undergraduate to Graduate (U2G) RN-DNP pathway. DNPs are online or hybrid depending on the focus.
2. Allen College
Program: Online RN to BSN
RN to BSN Credits: 27
Length: 3 Semesters (Accelerated); 5 Semesters (Part-Time)
Accepts Out-of-State RNs: Yes—Check with Admissions
Looking for post-graduation opportunities? Allen College UnityPoint Health has come up with a 100% Online RN to BSN that's backed by ties to a major health system. UnityPoint Health has relationships with 280+ physician clinics, 29 hospitals in metropolitan and rural communities, and home care services in multiple regions. We might also mention that Allen has superb NCLEX pass rates, strong community college partnerships, and tons of institutional scholarships for nursing students. Online RN to BSN students are even eligible for a 25% tuition scholarship!
3. Mount Mercy University
Program: Online RN-BSN
RN to BSN Credits: 30
Length: 18-24 Months
Accepts Out-of-State RNs: Yes
MMU is a worthy addition to our Best Iowa rankings. The Martin-Herold College of Nursing & Health (MHCNH) has created a 100% Online RN-BSN that's big on practical learning. Nurses from local hospitals and agencies often serve as professors. Coursework includes group projects. And students conduct presentations of evidence-based nursing interventions. We give MHCNH extra props for achieving strong NCLEX pass rates and fostering great connections to local hospitals (e.g. Mercy Medical Center, UnityPoint Health–St. Luke's Hospital, etc.). Learn if you're eligible for the 10% tuition discount for employees of partner organizations.
Cheapest RN to BSN Online Programs in Iowa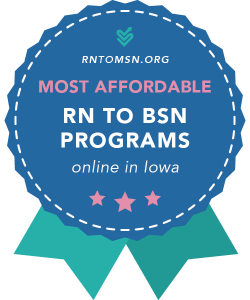 Tuition prices for Iowa Online RN to BSN programs will depend on the school. Top-ranked options like UI tend to be in the $15,000-$16,000 range. For our Cheapest Iowa rankings, we've highlighted Online RN to BSN programs that cost ~$10,000. However, you'll find cheaper options in our rankings of the Most Affordable Online RN to BSN Programs in the country.
1. Mercy College of Health Sciences
MCHS is affordable thanks to special Mercy College PLUS tuition prices. Students in the Online RN to BSN are charged a fixed, per semester tuition rate with no additional fees. That means you'll only be paying $10,000 if you finish in 12 months/4 semesters.
2. Northwestern College
With 30 credits, the total tuition cost for Northwestern's 100% Online RN to BSN is just a few hundred dollars more than MCHS. Just keep in mind that you will have to budget for additional per semester online program fees and a one-off graduation fee.
Fastest Online RN to BSN Programs in Iowa
To appear in our Fastest rankings, schools had to offer Online RN to BSN pathways that took less than 3 semesters/1 year to complete on a full-time schedule. We didn't find any programs in Iowa that met these criteria. However, there are alternatives! Check out our rankings of the Fastest Online RN to BSN Programs to learn about self-paced and 2-semester options.
RN to BSN Scholarships in Iowa
Statewide Scholarships for Iowa RN to BSN Students
Iowa Nursing Organization Scholarships
Start by applying for Iowa Nurses Foundation (INF) Scholarships. Many are open to RN-BSN students. Once you've filled in the INF form, you can look into:
Iowa Hospital & Healthcare Foundation Scholarships
You might even qualify for specific Iowa healthcare foundation awards. Here are just a few examples:
Iowa Community Foundation Scholarships
We also urge you to find your local Community Foundation in Iowa and ask them about scholarship opportunities. Although many CF awards are reserved for recent high school graduates, scholarships do exist for adult & non-traditional learners. Here are just a few examples!
Iowa Healthcare System & University Partnerships
Do you work for an Iowa hospital or healthcare system? Chat to your HR representative about your education plans. You may be eligible for tuition reimbursement, loan forgiveness, tuition discounts, and more. For example:
University Scholarships for Iowa RN to BSN Students
Internal aid will vary from school to school. For example, big public names like UI and colleges associated with UnityPoint Health often have a lot of nursing awards. If you're interested in general university scholarships, check that online, upper division students are eligible to apply. Many funds will be reserved for "traditional" 4-year undergraduates.
Allen College UnityPoint Health
Briar Cliff University
Grand View University
Iowa Wesleyan University
Mercy College of Health Sciences
Mount Mercy University
Northwestern College
St. Luke's College UnityPoint Health
University of Iowa
Upper Iowa University
William Penn University
RN to BSN Requirements in Iowa
RN Licensure: Online RN to BSN degrees are classified as "post-licensure" programs. That means Iowa universities will expect you to have—or be in the process of earning—an RN license. If you're still waiting to sit the NCLEX exam, contact the RN to BSN program coordinator. Some schools may be willing to grant you conditional acceptance.
Have a question about state licensure? Visit the website for the Iowa Board of Nursing.
While you are there, you might want to check out recent NCLEX Pass Rates for Iowa schools. These statistics only apply to pre-licensure BSN programs, but they're always a useful quality benchmark. Avoid any schools with terrible numbers!
State Authorization: Do you live outside of Iowa? Before you start filling out applications, check that you're eligible to apply. In our research, we noticed that:
A number of Iowa Online RN to BSN programs could only accept students from specific states (e.g. Mount Mercy, IWU, etc.).
At William Penn, students must have an Iowa RN license.
Frequently Asked Questions
Are 100% Online RN to BSN Programs in Iowa Available?
Absolutely. The vast majority of Online RN to BSN programs in our Iowa listings are 100% online, with no on-campus requirements. Having said that, you will still be expected to complete clinical practicums/practice experiences in your home community.
Can I Choose a "No Clinicals" Online RN to BSN in Iowa?
Not really. CCNE- and ACEN-accredited Online RN to BSN programs almost always include on-the-ground practicums. Fortunately, these are different to clinicals at the associate or diploma level. BSN-level practicums are focused on community health & leadership training. For instance:
Allen's Online RN to BSN includes clinicals in Community & Public Health Nursing and Care Coordination Across the Lifespan.
UI's Online RN to BSN includes Community & Public Health practicums in Iowa or Swaziland and a quality improvement project in an Iowa student's place of employment.
Do I Need Statistics to Apply for Iowa Online RN to BSN Programs?
Probably. We saw it listed over and over again as a General Education (GE) prerequisite in Iowa Online RN to BSN programs (e.g. Allen, IWU, UI, MCHS, Grand View, etc.). Christian schools like Northwestern College may also have a religion prerequisite.
But check the curriculum & admissions links in our listings. At schools like Briar Cliff, you may be able to take statistics as a co-requisite (i.e. while you're completing other RN to BSN courses).
Are There Any Online RN to BSN to MSN Programs in Iowa?
If you need a BSN for employment purposes, you might want to consider Graceland's Online RN to BSN to MSN pathway (Graceland has an Iowa campus and a Missouri campus). Students in Graceland's program are not required to take two BSN courses that they later take at the MSN level. They will also have unimpeded matriculation into the MSN.
Remember, too, that some standard Online RN to BSN programs will permit you to substitute MSN-level courses for BSN-level credits.
Iowa RN to BSN Online Schools