Best RN to BSN Online Programs in New Jersey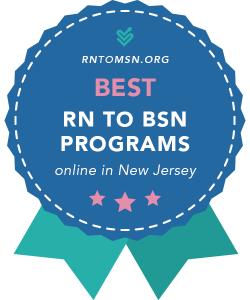 1. Rutgers University
Program: Online RN to BS
RN to BSN Credits: 30
Length: 4 Semesters (Full-Time); Up to 7 Years (Part-Time)
Accepts Out-of-State RNs: No
If you hold a current RN license in New Jersey, Rutgers's Online RN to BS is on the table! In addition to being an NLN Center of Excellence, the Rutgers School of Nursing is an absolute powerhouse in research and applied learning—it has connections to 200+ affiliated clinical sites. Plus it consistently achieves outstanding national rankings, excellent NCLEX pass rates, and great independent reviews. Although the Online to BS is primarily asynchronous, there are a small number of face-to-face meetings. You also have the option to earn up to 12 graduate credits towards an MSN or DNP.
2. Thomas Edison State University
Program: Online RN to BSN
RN to BSN Credits: 28
Length: ~2 Years (Part-Time)
Accepts Out-of-State RNs: Yes
TESU's W. Cary Edwards School of Nursing nabs our #2 Best spot thanks to reasonable tuition costs, superb NCLEX pass rates, and strong independent reviews for BSN-level programs (reviews of the MSN & DNP are more mixed). We give the 100% Online RN to BSN extra credit for usefulness. TESU allows RN to BSN students to take 4 graduate-level courses during the program and RN to BSN practicums help CA students meet public health certification requirements. Be sure to check out the School's special tuition rates for healthcare partners and internal nursing scholarships.
Cheapest RN to BSN Online Programs in New Jersey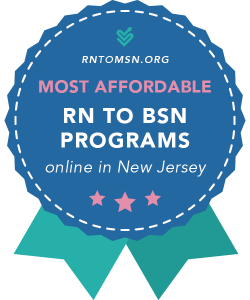 Like New York, New Jersey is a pricey state for Online RN to BSN students. Top-ranked schools like Rutgers are expensive; even modest public options can exceed $12,000 in total tuition. But we did find one NJ program that cost between $8,000-$9,000. You may wish to compare it with our rankings of the Most Affordable Online RN to BSN Programs in the country.
1. William Paterson University
WP's Online RN to BSN is offered at a special—and pretty darn affordable—tuition rate. The cost is the same for in-state and out-of-state students and there are multiple start dates throughout the year. Coursework is 100% online, with a Nursing Practice for RN-BSN practicum in public & community health settings.
Fastest Online RN to BSN Programs in New Jersey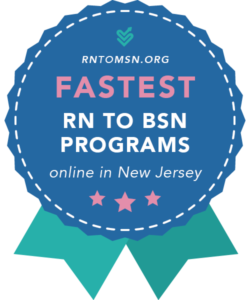 To appear in our Fastest rankings, NJ schools had to offer Online RN to BSN programs that took less than 3 semesters/1 year to complete. One New Jersey option met these criteria. If you'd like to expand your search beyond the state, check out our rankings of the Fastest Online RN to BSN Programs in the country.
1. William Paterson University
Program: Online RN to BSN
RN to BSN Credits: 30
Length: 10 Months
Accepts Out-of-State RNs: Yes
On a full-time schedule, WP's Online RN to BSN can be completed in 10 months. Each course lasts 7 weeks, so you would need to commit to 2 courses every 2 months. The program consists of 9 core courses/27 credits and 1 mandatory elective/3 credits. For the elective, you can choose a 500-level or 600-level course (e.g. Advanced Pharmacology) and get a head-start on graduate studies.
RN to BSN Scholarships in New Jersey
Statewide Scholarships for New Jersey RN to BSN Students
New Jersey Nursing Organization Scholarships
You can start your quest for statewide funding by applying for:
If you're a member of specific NJ nursing organizations, you might also be eligible for:
You could even explore niche healthcare awards & grants such as:
New Jersey Community Foundation Scholarships
Once you've filled out the forms for NJ nursing organizations, take a moment to find your local NJ Community Foundation. They often offer educational funding (e.g. Community Foundation of New Jersey (CFNJ) Scholarships).
The vast majority of CF scholarships in New Jersey will be reserved for high school graduates, but it never hurts to ask!
New Jersey Healthcare System & University Partnerships
Do you work for a New Jersey hospital or healthcare system? Talk to your HR representative before you start applying for Online RN to BSN programs. You may be eligible for tuition reimbursement, loan forgiveness, tuition discounts, and more. For example, TESU's School of Nursing offers special tuition rates to multiple healthcare partners.
We also noticed that New Jersey hospitals and medical centers offer a ton of employee & dependent scholarships. Here are just a few examples of what's out there!
University Scholarships for New Jersey RN to BSN Students
Big public universities in New Jersey tend to offer the most internal aid to nursing students. But it's not a hard-and-fast rule. Rider is a private school with Scholarships for Continuing Studies Students. To present you with all the options, we've also included links to university scholarships. Just keep in mind that many general awards will be limited to traditional, 4-year undergraduates.
Bloomfield College
Caldwell University
Fairleigh Dickinson University
Felician University
Kean University
Montclair State University
Ramapo College of New Jersey
Rider University
Rowan University
Rutgers University
Saint Peter's University
Thomas Edison State University
William Paterson University
RN to BSN Requirements in New Jersey
RN Licensure: Online RN to BSN degrees are classified as "post-licensure" programs. New Jersey universities will expect you to have—or be in the process of earning—an RN license.
If you still haven't taken the NCLEX exam, check the admissions requirements and talk to the RN to BSN program coordinator.
A number of NJ schools will grant you conditional acceptance as long as you earn your RN in the first few months of the RN to BSN (e.g. Rutgers, Felician, Montclair State, etc.).
The New Jersey Board of Nursing can answer any questions you may have about state licensure. The Board also posts recent NCLEX Pass Rates for New Jersey schools. These stats only apply to pre-licensure BSN programs, but we like to use them as a general quality marker.
State Authorization: Do you live outside of New Jersey? In our research, we noticed that a number of online & hybrid RN to BSN programs in this state are limited to candidates with a New Jersey RN license (e.g. Rutgers, Bloomfield, Rowan, etc.). Before you apply, check the fine print on state authorization to ensure that you're eligible.
Frequently Asked Questions
Are 100% Online RN to BSN Programs in New Jersey Available?
Yes. A number of universities in our NJ listings offer 100% Online RN to BSN pathways, with no on-campus requirements (e.g. TESU, Rider, WP, etc.). Felician even offers a choice! The 15-month RN-BSN Fast Track is available in a 100% online format, on-campus, or at various off-campus locations.
But there are exceptions to the rule. For example, Bloomfield's Hybrid RN to BSN combines in-person and online courses. So we recommend you check with the RN to BSN program coordinator if you're in any doubt.
Can I Choose a "No Clinicals" New Jersey Online RN to BSN Program?
Not really. CCNE- and ACEN-accredited Online RN to BSN programs almost always include practicums. For instance, even though Rider states that no clinical hours are required for its Online RN-BSN, the program still includes a 90-hour Capstone practicum in a selected healthcare organization.
Keep in mind that practicums at the 300-level & 400-level are different to clinicals at the associate/diploma level. BSN-level practicums primarily focus on training in community health & nursing leadership. For example:
WP's Online RN to BSN requires students to engage in experiences in a variety of public health/community settings, caring for clients with physical and psycho-social needs.
TESU's Online RN to BSN includes a Public Health Nursing course with 60 practice experience hours (90 hours for CA residents to meet public health certification requirements).
Montclair State's Online RN to BSN has a Population and Global Health course with a clinical & practicum requirement.
You'll usually be able to complete Online RN to BSN practicums in your home community and/or workplace.
Do I Need Statistics to Apply for New Jersey Online RN to BSN Programs?
Maybe. When we dug into curriculum & admissions sections, we often saw statistics listed as a General Education requirement (e.g. FDU, Rowan, etc.). Having said that, you may have a little bit of wiggle room. For example, at Felician, statistics is included as part of the RN-BSN Fast Track curriculum. If you still need to complete statistics, talk to the RN to BSN Program Coordinator about your options.
Are There Any Online RN to BSN to MSN Programs in New Jersey?
Yes. TESU's Online RN-BSN/MSN pathway will allow you to earn a BSN and an MSN in Nurse Educator, Nurse Administrator or Nursing Informatics. This accelerated program only requires the completion of an additional 27 credits beyond the BSN degree requirements.
You could also consider choosing a program that allows you to take graduate-level coursework during your BSN (e.g. Rutger's Online RN to BS). This will reduce the time & tuition needed to complete an MSN in the future.
New Jersey RN to BSN Online Schools