Best RN to BSN Online Programs in Michigan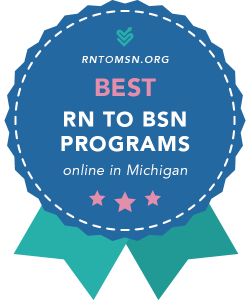 1. Michigan State University (Tied)
MSU's College of Nursing has come up with a 100% Online RN to BSN that's particularly strong on practicums and networking. The College is known for helping with clinical placements and it often collaborates with Sparrow Hospital. Better yet, the College offers specific Online RN to BSN Scholarships. And local community college students can sign up for a program to tackle the RN to BSN and then proceed to the BSN to DNP. MSU Nursing gets glowing reviews—alumni praise its supportive faculty, sturdy pass rates, and overall reputation in the job market. The only real downside is price—tuition costs are high for a public school. See the RN to BSN FAQs for more info.
1. University of Michigan-Flint (Tied)
UM-Flint's School of Nursing ties for #1 in our Best Michigan rankings thanks to more affordable tuition rates than MSU and a host of solid independent reviews. The 100% Online RN to BSN is built for usefulness, with a choice of electives, an experiential learning course, and the option to pursue an additional Nursing Leadership and Management Certificate or Nursing Case Management Certificate. Admitted RN to BSN students are also eligible for early entrance into UM-Flint's MSN or DNP programs.
2. Oakland University
Program: Online RN-BSN
RN to BSN Credits: 32
Length: 3 Semesters (Full-Time); 5 Semesters (Part-Time)
Accepts Out-of-State RNs: Yes
OU's 100% Online RN-BSN earns its Michigan spot thanks to solid quality markers & glowing student reviews! The School of Nursing is an R2 Carnegie Doctoral Research University with plenty of experienced faculty. It offers multiple graduate programs, including the DNP and PhD. And it earns high praise for its rigorous coursework. Alumni loved the challenging atmosphere, caring professors, and helpful career preparation. Oh, and did we mention that it's affordable?
Cheapest RN to BSN Online Programs in Michigan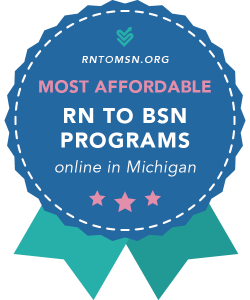 Michigan is fairly pricey for Online RN to BSN programs—our top-ranked schools cost in excess of $15,000 in total tuition. However, for our Cheapest MI rankings, we did find a couple of big public universities that charged between $9,000-$10,000. If this cost is still too steep, check out rankings of the Most Affordable Online RN to BSN Programs in the country.
1. Eastern Michigan University
Tuition & fees are laid out on EMU's Online RN to BSN program website. The price is the same for in-state and out-of-state students. In addition to payment for at least 10 courses, you'll need to budget for the application fee, any applicable course fees, and course materials. Be sure to check out the section on School of Nursing Scholarships—a number are open to RN to BSN students.
2. Oakland University
Tuition for OU's 100% Online BSN Completion is offered at a flat rate with no extra fees. All students, both in-state and out-of-state, pay the same price. We're also pleased to report that OU offers transfer awards to community college students. And McLaren Oakland employees may qualify for the McLaren Oakland BSN Completion Award.
Fastest Online RN to BSN Programs in Michigan
To appear in our Fastest rankings, MI schools had to offer Online RN to BSN programs that were under 1 year/3 semesters on a full-time schedule. We didn't find any Michigan programs that met this criteria—even the shortest options were 3 semesters (e.g. WMU).
If you really need to get your BSN in a hurry, check out our rankings of the Fastest Online RN to BSN Programs in the country. There are a number of self-paced & accredited programs available.
RN to BSN Scholarships in Michigan
Statewide Scholarships for Michigan RN to BSN Students
Michigan Nursing Organization Scholarships
Start with the Michigan Center for Nursing (MCN). It has tons of good ideas for national & statewide nursing scholarships. On statewide level, you can apply for:
You may also be eligible for awards from specific nursing associations, including:
Michigan Community Foundation Scholarships
After you've looked at MI nursing scholarships, take a minute to find your local Michigan Community Foundation. Although most awards are aimed at recent high school graduates, there are scholarships available for adult learners. Here are just a few examples:
Michigan Healthcare System & University Partnerships
Do you work in a Michigan hospital or healthcare system? Get in touch with your HR representative. Many Michigan healthcare providers have educational partnerships with local universities. Examples include:
University Scholarships for Michigan RN to BSN Students
Big public universities in Michigan tend to offer the most nursing aid—many have specific scholarships for RN to BSN students (e.g. EMU, GVSU, MSU, SVSU, UM-Flint, etc.)! Under each school, we have also included links to institutional scholarships. Just keep in mind that general awards are often limited to "traditional" 4-year undergraduates.
Andrews University
Davenport University
Eastern Michigan University
Ferris State University
Finlandia University
Grand Valley State University
Michigan State University
Northern Michigan University
Oakland University
Saginaw Valley State University
Siena Heights University
Spring Arbor University
University of Michigan-Flint
Western Michigan University
RN to BSN Requirements in Michigan
RN Licensure: Online RN to BSN programs are classified as "post-licensure" programs. That means Michigan universities will expect you to have—or be in the process of earning—an RN license.
The Michigan Board of Nursing can help with any questions on state licensure.
Still waiting to sit for the NCLEX exam? Check the admissions requirements. Some schools will allow you a bit of grace. For example, students in WMU's Online RN-BSN should have their RN license no later than three months after entering the program.
State Authorization: Do you live outside of Michigan? Before you pick a program, read the fine print on state authorization. Even though Online RN to BSN degrees are post-licensure, some schools still can't accept RNs from certain states (e.g. GVSU's Online RN to BSN). When in doubt, ask the RN to BSN program coordinator.
Frequently Asked Questions
Are 100% Online RN to BSN Programs in Michigan Available?
Absolutely. The vast majority of Online RN to BSN programs in our Michigan listings and our Best & Cheapest Michigan rankings are 100% online, with no campus visits required.
In some cases, you may even have a choice! For example, SVSU's Online RN to BSN is available in online and hybrid tracks that are interchangeable at any time.
Can I Choose a "No Clinicals" Online RN to BSN in Michigan?
Not really. Accredited Online RN to BSN programs almost always have clinical practicum requirements. But these practicums won't resemble your associate degree or diploma experiences. Instead, they'll focus on areas such as community health and leadership training.
For example, EMU's Online RN to BSN contains 50 hours of a precepted Capstone Practice Experience. In this population-focused course, you might conduct a demographic study in a local community or intern with a nurse manager in a care unit you haven't worked in before. Check the curriculum links in our listings for more info.
Do I Need Statistics to Apply for Michigan Online RN to BSN Programs?
It depends. When we looked at the admissions requirements for Online RN to BSN programs in Michigan, each school was different. For instance:
MSU requires a 200-level statistics course as a prerequisite.
Davenport includes a 200-level statistics course in the curriculum.
EMU doesn't require Online RN to BSN students to have statistics.
WMU allows you to take a 300-level statistics course as a co-requisite.
Ask the RN to BSN program coordinator if you're in any doubt.
Are There Any Online RN to BSN to MSN Programs in Michigan?
Yes. If you're interested in graduate work, but you need a BSN for employment purposes, you have a couple of options. For instance:
Spring Arbor University offers a CCNE-accredited Online RN to MSN pathway in multiple MSN concentrations. You'll be able to earn a BSN along the way.
Ferris State University's Online RN to MSN Accelerated Track is available to FSU students in the RN to BSN Completion Program. You can apply to the MSN at the beginning of your last semester of bridge coursework.
Do Michigan Universities Have Community College Agreements for the Online RN to BSN?
Yes. To facilitate transfers and make life easier for associate degree students, a lot of Michigan public universities have articulation agreements with Michigan community colleges (e.g. MSU).
Some even have special deals! For example, Davenport's Online BSN Completion: Concurrent Pathway is open to students in 10 partnering local community colleges. You can earn your BSN up to one year sooner by taking Davenport BSN classes at your community college during the semester or over the summer.
Michigan RN to BSN Online Schools