Best RN to BSN Online Programs in Pennsylvania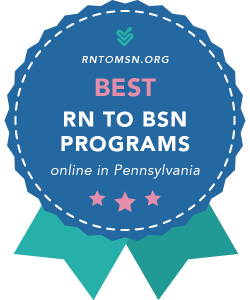 1. University of Pittsburgh
Pitt's Online RN-BSN is backed by a School of Nursing with an outstanding reputation and a ton of NIH funding. The School often earns top 10 rankings for its MSN & DNP programs, including specialty rankings for PMHNP, PNP, and Nursing Administration. It's affiliated with the University of Pittsburgh Medical Center (UPMC). It packs all kinds of useful electives and practicums into the RN to BSN program. And it's well-known in the Northeast—employers will recognize the name.
2. Drexel University
Drexel's 100% Online RN to BSN is studded with quality markers. The College of Nursing and Health Professions (CNHP) frequently earns national plaudits for its online graduate nursing programs. It receives glowing reviews—students often mention the caring professors, interactive online elements, and relevant coursework. And it offers a 3-year tuition lock and RN to BSN discounts to alumni, military, and partner organizations. RNs with a non-nursing bachelor degree should check out the streamlined RN-BSN-MSN route.
3. Pennsylvania State University
Our #3 Best spot goes to Penn State's unique Online RN to BSN from the highly ranked College of Nursing. It's a convenient "build your own" program—you can choose the 100% online format (World Campus), a hybrid format, or a campus-based degree at one of six campus locations. If you opt for the 100% online path, the final capstone will include a 45-hour clinical practicum that can be completed near your home. Penn State isn't super-cheap, but RN to BSN faculty are diverse and experienced. You can truly impress employers with an additional career-focused certificate.
Note: RN to BSN students must earn 36 of their last 60 credits at Penn State.
Cheapest RN to BSN Online Programs in Pennsylvania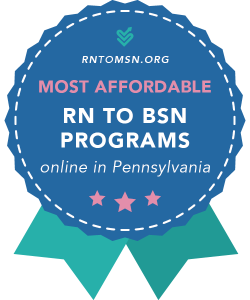 Pennsylvania is an expensive state for Online RN to BSN students. Even public universities in PA have a lot of mandatory per credit fees that will increase your tuition costs. For our Pennsylvania affordable rankings, we included any program whose total tuition price was under $10,000. Keep in mind that you'll find cheaper options in our rankings of the Cheapest Online RN to BSN Programs in the country.
1. Clarion University
This ACEN-accredited & 100% Online RN to BSN is offered at a special tuition rate. Clarion is a public university, but prices are the same for in-state and out-of-state RN to BSN students. Discounts will be applied to your account in the form of an RN-BSN Waiver each semester.
2. York College of Pennsylvania
To calculate the price of YCP's 100% Online RN to BSN, we used the standard non-partner tuition rate. However, if you're eligible for the partner or military rate (which includes military spouses & family members), you'll save around $2,000 on the total cost. Keep in mind that any General Education courses will be charged at a higher per credit rate.
Fastest Online RN to BSN Programs in Pennsylvania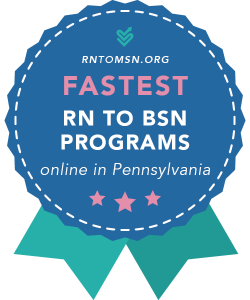 To qualify as "fast," Online RN to BSN programs in Pennsylvania in this list had to take less than one year. Any option that was 3 semesters or over was excluded. If you'd like more choice, have a look at our rankings of the Fastest Online RN to BSN Programs in the country.
1. Carlow University
Full-time students can get Carlow's Online RN-BSN finished in 11 months. Part-time study might take 16 months. Fall and spring semesters are traditionally 15 weeks long; summer classes usually run for 8 weeks. Up to 12 credits of graduate coursework can be taken as part of the RN to BSN program.
RN to BSN Scholarships in Pennsylvania
Statewide Scholarships for Pennsylvania RN to BSN Students
Pennsylvania Nursing Organization Scholarships
Start with awards from Pennsylvania nursing associations & non-profit organizations:
The Pennsylvania Organization of Nurse Leaders (PONL) has PONL Partnerships with a number of PA universities, including Drexel, Gannon, and Cal U. Benefits include tuition discounts & fee waivers.
Pennsylvania Community Foundation Scholarships
You will also find education scholarships offered by your local PA Community Foundation. Here are just a few examples—visit your regional branch to find more!
Some foundations even have school-specific funds. For instance, the Lancaster County Community Foundation offers the Nathan Schaeffer Scholarship to Millersville University students.
Tuition Discounts for Pennsylvania Healthcare Institutions
Be sure to talk to your Pennsylvania employer about education benefits! Many healthcare providers have plans in place (e.g. Geisenger's tuition reimbursement).
Better yet, Pennsylvania universities offer a slew of partner discounts. Examples include:
University Scholarships for Pennsylvania RN to BSN Students
To help you decide on a Pennsylvania school, we've included links to specific nursing scholarships and general, university-wide awards. While you're investigating university scholarships, bear in mind that many of them will be reserved for "traditional" 4-year undergraduate students.
Alvernia University
Bloomsburg University of Pennsylvania
California University of Pennsylvania
Carlow University
Cedar Crest College
Chatham University
Clarion University
Drexel University
East Stroudsburg University
Gannon University
Immaculata University
La Roche University
La Salle University
Lock Haven University
Messiah College
Millersville University
Misericordia University
Mount Aloysius College
Moravian College
Pennsylvania College of Health Sciences
Pennsylvania College of Technology
Pennsylvania State University
Robert Morris University
Slippery Rock University of Pennsylvania
University of Pittsburgh-Pittsburgh
Waynesburg University
West Chester University of Pennsylvania
Widener University
York College Pennsylvania
RN to BSN Requirements in Pennsylvania
RN Licensure: Online RN to BSN degrees are classified as "post-licensure" programs. Pennsylvania universities will expect you to hold—or be in the process of earning—your RN license. For example, Penn State & Millersville allow students to begin taking classes before passing the NCLEX and becoming licensed as an RN. However, they must possess an active and valid RN license to enroll in certain BSN courses.
State Authorization: Coming from out-of-state? Be sure you're eligible to apply.
Frequently Asked Questions
Do Any Pennsylvania Universities Offer 100% Online RN to BSN Programs?
Absolutely. In fact, almost all of the Online RN to BSN programs in our PA listings are built on this framework. This means you will not be expected to visit the campus for classes or tests. And coursework will often be asynchronous (available at any time).
However, Online RN to BSN programs almost always includes "on-the-ground" elements. You will often be asked to complete BSN practicums, fieldwork, or capstone projects in your place of employment and/or your local community.
Should I Consider an Online RN to BSN to MSN Program in Pennsylvania?
If you're toying with the idea of graduate work, but you still need a BSN for employment purposes (e.g. Magnet facility), you might want to consider Online RN to BSN to MSN programs. These pathways will allow you to earn both degrees in a shortened time-frame. You'll discover all kinds of Pennsylvania options in our comprehensive listings of RN to BSN to MSN Programs.
Remember, too, that many Online RN to BSN programs will allow you to complete graduate-level courses during your BSN (e.g. Widener's Accelerated RN to BSN with Master's Courses). This will give you a jump-start on credit transfers if you eventually decide to earn an MSN.
Is Statistics Required for Pennsylvania Online RN to BSN Programs?
Sometimes. We've seen it listed as a prerequisite in a number of instances. But there are exceptions (e.g. Waynesburg). Check the admissions requirements and curriculum sections if you are in any doubt.
Keep in mind that many schools will allow you to take statistics or other prerequisites (e.g. Religion or Ethics at Christian universities) while you are earning your RN to BSN.
Can I Choose a "No Clinicals" Online RN to BSN Program in Pennsylvania?
It depends on what you mean by "clinicals." Unlike pre-licensure programs, Online RN to BSN programs don't include a lot of conventional nursing training and labs.
What you'll find instead are BSN practicums and fieldwork, especially in courses dealing with nursing leadership, population health, and health assessment. In 100% online programs, you'll be able to tackle these "clinical hours" in your local community and/or place of employment.
Do Pennsylvania Universities Offer Community College Affiliation Agreements & Discounts?
Yes! A large number of Pennsylvania universities have affiliation agreements with local area community colleges. Graduates of those colleges receive guaranteed admission to an Online RN to BSN program and streamlined credit transfers. Schools like Cal U and Waynesburg have additional articulation agreements with UPMS Schools of Nursing.
Community college students in the Northeast should also ask about tuition discounts and scholarships. For example, YCP's discounted tuition rate often applies to Prince George's Community College (PGCC) graduates.
Pennsylvania RN to BSN Online Schools