Best RN to BSN Online Programs in Montana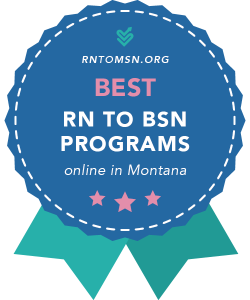 1. Montana Technological University
Montana Tech's 100% Online BSN Completion program is the brainchild of the Montana Tech Nursing Department—one of the only two public nursing departments/colleges in the state to offer a pre-licensure BSN. (MSU College of Nursing is the other, but it doesn't have an RN to BSN program.) If you choose Montana Tech, you'll earn a degree that's strong on practical coursework (e.g. Complex Healthcare Needs), weighted with summer practicums, and only 3 semesters long. We might also add that the Nursing Department has superb NCLEX pass rates.
Cheapest RN to BSN Online Programs in Montana
To appear in our Cheapest rankings, Montana universities were required to offer Online RN to BSNs that were under $10,000 for MT residents.
We didn't find any programs that fit the bill. Even if you have all your General Education requirements in hand, you're still likely to pay above the line.
For instance, Montana Tech, which has the cheapest in-state tuition rate, charges additional program fees.
Our best advice? Pick a couple of your favorites and ask the RN to BSN program coordinator for a sample budget, with all fees and additional costs included. You may also wish to take a look at our rankings of the Most Affordable Online RN to BSN Programs in the country.
Note: If you're an American Indian or of Indian descent, SKC's Online RN to BSN is highly affordable! Check out the heavily discounted tuition rate.
Fastest Online RN to BSN Programs in Montana
Our Fastest state rankings are limited to Online RN to BSN programs that take less than 3 semesters/1 year to complete on a full-time basis. We didn't see any MT schools with this kind of accelerated option. The quickest plans of study will be 3 semesters. If speed is really of the essence, try the self-paced options in our rankings of the Fastest Online RN to BSN Programs in the country.
RN to BSN Scholarships in Montana
Statewide Scholarships for Montana RN to BSN Students
Montana Nursing Organization Scholarships
Most statewide nursing associations offer education awards to members. So be sure to ask about the possibility of Montana Nurses Association Foundation (MNAF) scholarships!
Depending on your area of interest, you could also look into:
Montana Healthcare System & University Partnerships
Do you work for a Montana hospital or regional healthcare system? Talk to your HR representative about your degree plans. As an employee, you may be eligible for all kinds of educational perks, including discounts, tuition reimbursement, and loan forgiveness programs. For example:
Montana Hospital Scholarships
Montana hospitals also offer tons of awards for BSN-level study—we found them everywhere we looked. Some scholarships will be aimed at employees; some will be open to local residents. Check out:
Montana Community Foundation Scholarships
If you have a moment, you could also consider apply for Montana Community Foundation (MCF) Scholarships. Foundation awards are usually directed at recent high school graduates, but there are sometimes funds for continuing learners & current college students.
University Scholarships for Montana RN to BSN Students
Institutional aid in Montana will depend on the school. We're happy to report that all of the public options offer individual nursing scholarships; the University of Providence also has a special relationship with Providence St. Joseph Health. When you're exploring links, just keep in mind that any general, university-wide scholarships may be intended for "traditional" 4-year undergraduates.
Montana State University Billings
Montana State University-Northern
Montana Technological University
Salish Kootenai College
University of Providence
RN to BSN Requirements in Montana
RN Licensure: Online RN to BSN degrees are classified as "post-licensure" programs. Montana universities will expect you to have—or be in the process of earning—an RN license. For example, MSUN's 100% Online RN-BSN Completion accepts candidates who are eligible to sit for the NCLEX. However, RN licensure will be required by the time of clinical practicum courses.
State Authorization: Do you live outside of Montana? Just double-check with the RN to BSN program coordinator that you're able to apply. It looks like most Montana schools are happy to accept out-of-state RNs from any area, but state authorization rules can sometimes lead to exceptions.
Frequently Asked Questions
Are 100% Online RN to BSN Programs in Montana Available?
Yes. Public Online RN to BSN options in our MT listings are typically designed to be 100% online, with distance-based coursework and no campus visits required. Any practicums can be completed in your local community.
The University of Providence's Online RN-BSN Completion Program is not quite 100% online—there's one required face-to-face program orientation. This online degree also has mandatory live video conference classes on one day every other week.
Can I Choose a "No Clinicals" Online RN to BSN in Montana?
Not really. Because of accreditation rules, CCNE- and ACEN-accredited Online RN to BSN programs almost always have on-the-ground components.
Fortunately, BSN-level practicums are primarily focused on training in nursing leadership & community health. For examples, see the clinical components in programs at MSUN, MSU Billings, and Montana Tech.
You'll be allowed to tackle practicums & fieldwork experiences in your geographic area and/or place of employment. Ask the RN to BSN program coordinator about how this process is organized.
Do I Need Statistics to Apply for a Montana Online RN to BSN?
You will need statistics for Montana Online RN to BSN programs, but you may not need it when you are applying. When we dug into program handbooks, we noticed that Montana schools include statistics in their Online RN to BSN plans of study. This rule applies to all of the public options and the University of Providence.
Are There Any Online RN to BSN to MSN Programs in Montana?
Not that we could find. If you'd like to save time & money by combining your BSN with an accelerated MSN program, check out the online offerings in our listings of accredited RN to BSN to MSN Programs. There are options from many well-respected public & private universities!
Montana RN to BSN Online Schools