Best RN to BSN Online Programs in Connecticut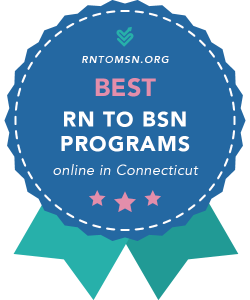 1. Sacred Heart University
SHU's College of Nursing has come up with a 100% Online RN to BSN that's backed by the College's strong local reputation and shaped by its religious roots—SHU is the second-largest Catholic university in New England. So you'll notice that the curriculum includes courses like "The Human Journey in Nursing" and discussions of spirituality, ethics, and diversity. Thanks to a special tuition rate, SHU's part-time program is around $11,700; it also offers a modest discount to employees of local partners & hospitals. Making post-graduation plans? Check out the the College's useful clinical affiliations and its Online RN to BSN to MSN pathway.
2. Southern Connecticut State University
Looking for a well-respected public option? Explore SCSU's practical Online RN-BS! It covers all the standard bases for a BSN, but it also includes coursework in areas like Care Across the Continuum for Special Populations and an elective to get you to the 30-credit minimum. You may wish to use that course to focus on topic of special interest with a Capstone project. The School of Nursing has ties to 150+ clinical agency partners in Connecticut. It offers a number of graduate pathways, including an MSN in FNP. And it invites students to join the school's chapter of the National Student Nurses Association and the CT National Association for Hispanic Nurses.
3. Central Connecticut State University
CCSU gets top marks in our books for student support. The 100% Online RN to BSN is designed to be as flexible as possible. Before you apply, you can meet with the program coordinator—in-person or virtually—to create a reasonable plan of study. There's no expiration date on your previous science prerequisites. If your schedule changes, you can take a semester or two off. And you'll be able to complete your community immersion experience in an agency of your choosing (e.g. public health department, homeless shelter, meals on wheels, etc.). Better yet, the Department of Nursing has excellent NCLEX pass rates, specific nursing scholarships, and a unique MSN in Hospice & Palliative Care.
4. Western Connecticut State University
WCSU is right up there with CCSU in our rankings! The Department of Nursing has created a straightforward and self-paced Online RN to BS with two courses—Nursing in the Community and Professional Nursing Role Development—that involve practicum experiences. (WCSU will help you with placements.) Plus the Department offers plenty of graduate programs, including the MSN, DNP, and EdD. Although the Online RN to BS is open to RNs from any state, you will be required to obtain RN licensure in Connecticut and earn a minimum of 30 credits from WCSU following admission.
Cheapest RN to BSN Online Programs in Connecticut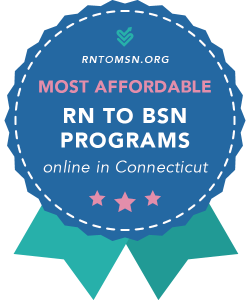 Connecticut Online RN to BSN programs aren't particularly cheap. Even options at state universities tend to exceed $10,000 in total tuition costs. For our Cheapest CT rankings, we've only included programs that are under $9,000. But you can also consider schools in our rankings of the Most Affordable RN to BSN Programs in the country!
1. Charter Oak State College
If cost is on your mind, Charter Oak State College's 100% Online RN/ADN to BSN is worth a look. Tuition is pretty reasonable for a CCNE-accredited program with 26 baseline credits and in-state & out-of-state residents pay the same price. Just watch out for the per semester technology and student services fees.
Fastest Online RN to BSN Programs in Connecticut
To appear in our Fastest CT rankings, schools had to offer Online RN to BSN programs that were less than 1 year/3 semesters on a full-time schedule. But we didn't find any non-profit schools that fit the bill. If speed is of the essence, have a look at our rankings of the Fastest Online RN to BSN Programs in the country.
Note: Sacred Heart University offers a 10-month, accelerated pathway to certain students in its Online RN to BSN. Contact the program coordinator for more information.
RN to BSN Scholarships in Connecticut
Statewide Scholarships for Connecticut RN to BSN Students
Connecticut Nursing Organization Scholarships
On the hunt for statewide funding? Start by applying for Connecticut Nurses Foundation (CNF) Scholarships. There aren't many, but CNF does pride itself on assisting non-traditional students and candidates with limited resources.
You may also be eligible for regional opportunities such as:
Connecticut Community Foundation Scholarships
When you have a moment to spare, contact your local community foundation in CT. Although foundation awards are often reserved for recent high school graduates, there are opportunities for non-traditional learners. For examples, check out:
Connecticut Healthcare System & University Partnerships
Do you work for a Connecticut healthcare system or hospital? Chat to your HR representative about your education plans. You may be eligible for all kinds of benefits, including tuition reimbursement, loan forgiveness, discounts, and more. For instance:
Connecticut Hospital Scholarships
Better yet, CT hospitals often offer scholarships to healthcare employees & families. Examples include:
University Scholarships for Connecticut RN to BSN Students
Institutional aid will depend on the school. Connecticut universities with deep pockets may be able to offer a lot of scholarships. Other schools won't have much besides conventional financial aid. If you're interested in general university awards, be sure you're eligible to apply. Some scholarships will be reserved for "traditional" 4-year undergraduates.
American Sentinel College of Nursing & Health Sciences at Post University
Central Connecticut State University
Charter Oak State College
Goodwin University
Sacred Heart University
Southern Connecticut State University
Western Connecticut State University
University of Bridgeport
University of Hartford
RN to BSN Requirements in Connecticut
RN Licensure: Online RN to BSN degrees are classified as "post-licensure" programs. That means Connecticut universities will want you to have—or be in the process of earning—an RN license. If you haven't sat the NCLEX exam, talk to the RN to BSN program coordinator. Schools like SCSU, Charter Oak, and the University of Bridgeport will grant you conditional acceptance until your results are known.
State Authorization: Do you live in a neighboring state? Before you settle on a Connecticut Online RN to BSN program, make sure you're eligible to apply. For example, CCSU's Online RN to BSN and WCSU's Online RN to BS are designed for RNs who have Connecticut licensure.
Frequently Asked Questions
Are 100% Online RN to BSN Programs in Connecticut Available?
Yes. The vast majority of Online RN to BSN programs in our Connecticut listings are 100% online, with no campus visits required. You'll still be participating in BSN-level fieldwork experiences, but these can usually be completed in your local community and/or place of employment.
Can I Choose a "No Clinicals" Connecticut Online RN to BSN?
Because of CCNE and ACEN accreditation regulations, BSN programs always contain practicums and fieldwork. Fortunately, BSN-level clinicals have a different feel to associate & diploma-level clinicals. They are much more focused on giving you experiences in community health and leadership. Look out for practicums in courses such as Population/Community Health, Leadership & Management in Nursing, and the Capstone.
Do I Need Statistics to Apply for Online RN to BSN Programs in Connecticut?
Probably. We saw it listed as a prerequisite for a number of schools, including public options (e.g. CCSU) and private ones (e.g. University of Bridgeport). At Goodwin, students must have completed Principles of Statistics or Mathematics for the Health Professions. Check with the RN to BSN program coordinator if you're in any doubt.
Can I Choose an Online RN to BSN to MSN Program in Connecticut?
Yes. Your choices include:
Connecticut RN to BSN Online Schools