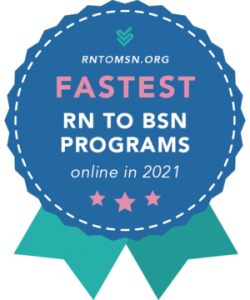 Fastest Online RN to BSN Rankings | 2021 Edition
---
---
---
---
---
Fastest Rankings Methodology
To give you a realistic idea of your choices, we've ranked our list of Fastest Online RN to BSN programs according to two major criteria:
Shortest Time to Completion: Self-paced programs come first in our list—students with a bucketload of time may be able to finish a self-paced Online RN to BSN in under 6 months. Then we divided the remaining programs up into monthly categories (e.g. 2 Semesters, 9 Months, etc.). Traditional semesters are usually 15-16 weeks long (i.e. 4 months)—this equates to 8 months for 2 semesters.
Estimated Total Cost: Whenever possible, we incorporated mandatory per credit fees into the cost of tuition. If a public university had different tuition rates for full-time and part-time study, we used the full-time tuition rate. If there were in-state and out-of-state tuition rates, we used the in-state tuition rate. For self-paced programs, we had a minimum cap of 8 months for the total price. That meant that Capella, which charges for 3-month sessions, ranked lower than ASU, which charges for 4-month sessions. (However, Capella will be cheaper on a 6-month schedule.)
Note: Because completion time is going to be key, we ignored the total number of Online RN to BSN credits in the program. For instance, if students can get 31 credits done in the same time as an RN to BSN with 28 credits—and the total cost for the 31-credit program is cheaper—then this option gets the higher rank.
How Long Are Online RN to BSN Programs?
Traditional Online RN to BSN programs usually take 1-2 years to complete. Schools create these programs for working RNs, so the schedule is structured around part-time study. For example, with 10 courses, you might take 2 courses per semester, and end up completing the degree in 1.5 years. Some schools will even allow you to take 1 course per semester, which stretches the timeline out even farther. RNs with full-time jobs and family responsibilities may find this format suits them best.
But the fastest Online RN to BSN programs can be finished in less than 1 year on a full-time schedule. Within that year, you'll find a lot of variation, including programs that are:
Self-Paced: These programs allow you to go as fast as possible. If you can finish in 4 months, then you're allowed to do so. In the past, self-paced Online RN to BSNs have only been offered by for-profit universities, which don't always look great on a résumé. But public universities are starting to get in on the game.
8 Months/2 Semesters: Traditional semesters are usually 15-16 weeks long (i.e. 4 months). This allows RN to BSN students in an 8-month program to divide their coursework over 2 semesters, with 4-5 courses per semester. A large number of universities offer this schedule.
9 Months: Some universities have longer semesters (e.g. 4.5 months) or use academic terms (e.g. 3 months per term). 9-month Online RN to BSN programs aren't that different to 8-month programs, but they're typically a little more expensive.
10 Months: Here's where it gets interesting! 10-month Online RN to BSN programs are often built on exactly the same model: 30 credit hours, 10 courses, multiple start dates, and similar tuition prices. We kept seeing the this format over & over again. If you like the look of a 10-month program, choose the one that has the most relevant coursework.
11 Months: 11-month Online RN to BSN programs are rarer and usually have a quirky calendar (e.g. National University's 4-week courses).
To fit all the necessary coursework into the year, most accelerated Online RN to BSN programs operate on a short course schedule (e.g. 6-8 weeks). You'll still complete the same number of credits as a traditional, on-campus RN to BSN, but your work will be concentrated into a few hard-core months. For example, in one 16-week semester, you might take two 8-week courses in the first session of the semester and two or three 8-week courses in the second.
Using the Fastest Rankings to Make a Decision
Here are a few things to be aware of when you're starting to put together your shortlist of speedy Online RN to BSN programs:
Fastest Time to Completion: We've given you the "best-case" scenario on time. This is when you have all your prerequisites in hand, and you don't need to take any extra General Education (GE) courses to satisfy the university's transfer requirements. If you're required to make up courses to meet the total credits for the BSN, your schedule may get longer (e.g. 3 semesters instead of 2) and the tuition price will get higher!
Prerequisites & Transfers: We've highlighted links to prerequisites & transfer policies so you won't be surprised by the fine print. Folks who are coming straight out of their associate degree or diploma may find that they have to make up more courses than RNs who have been in the field for a while. In some cases, you may be able to finish prerequisites at the same time as you're taking RN to BSN courses—these are called "co-requisites."
Type of Institution: The type of institution can say something about a school's reputation. For example, Schools of Nursing at public research universities or academic health science centers often have solid national rankings, good funding, and strong NCLEX pass rates. This isn't a hard-and-fast rule—you should research each school on your shortlist. We should also note that any for-profit school that appeared in our rankings had to be a) regionally accredited; and b) CCNE-accredited.
Accepts Out-of-State RNs: California Schools of Nursing in public universities are often unwilling to accept RNs who don't have a CA RN license (e.g. CSUF). But public universities in other states (e.g. Texas) are happy to consider RNs with a license from anywhere. When in doubt, ask the RN to BSN program coordinator to clarify the policy.
Estimated Total Cost: It's a ballpark figure! Universities love to tack on extra costs like technology fees or individual course fees. If the tuition is not all-inclusive, ask the RN to BSN program coordinator for a sample budget, with a breakdown of tuition + fees. You deserve to know how much the total cost will be.
Can You Really Complete an Online RN to BSN in Under One Year?
Yes, but it's going to be tough!
Full-Time Basis: Schools will expect you to commit to a full-time schedule. This often means 4-5 nursing courses per semester.
Weekly Coursework: If you're averaging 10 hours per course, per week, you may be tackling at least 20-30 hours of schoolwork every week.
Practicums: Don't forget, too, that some Online RN to BSN courses will include practicums with on-site fieldwork (e.g. Community Health Nursing project). These practicums may have a minimum time commitment (e.g. 60 hours).
This is why most schools advise RNs who are working full-time to consider part-time study schedules (e.g. 2-3 courses per semester).
Making a Quick Online RN to BSN Work for You
However, if you're ready for the challenge of a fast Online RN to BSN, here are few extra tips to make life easier:
Make Sure It's Available in Your State: Because of distance learning regulations, many Online RN to BSN programs have rules about which RNs they can/can't accept. The university should have a page on State Authorization (sometimes with a map of where online programs are available). But we always recommend you double-check.
Try Before You Buy: Ask the Online RN to BSN program coordinator if you can monitor a class or take a course tour. Talk to recent alumni about their experiences and chat about how they managed their time.
Ask for a Sample Calendar: Some universities are kind enough to provide these on the program website. But you can always request one if you don't see it listed.
Schedule Wisely: Think about which Online RN to BSN courses you'll take concurrently (i.e. at the same time). Because RN to BSN programs are packed with writing, research, and group work, you may not want to pair heavy research courses or courses with practicums together.
Select the Right Start Date: You'll often be able to choose from multiple start dates in the year; some Online RN to BSN programs launch every month. Begin in a calendar month that's relatively free of other commitments—this will give you a chance to get familiar with online learning and the weekly schedule.
Allow for Change: Ask the RN to BSN program coordinator if there are penalties for shifting your schedule from full-time to part-time study. You'll want some flexibility to change your mind about the calendar if life events occur.