Best RN to BSN Online Programs in Vermont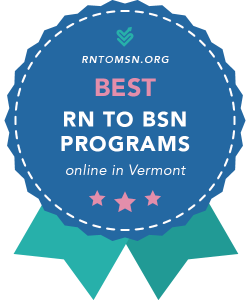 1. University of Vermont
Program: Online RN to BS
RN to BSN Credits: 30
Length: ~3 Years
Accepts Out-of-State RNs: Yes
We'll start with a warning: UVM isn't always accepting Online RN to BS applications. So check the program website for the latest info. If it is available, it's going to come from the best nursing school in the state. UVM's College of Nursing and Health Sciences can usually be found in the top 120 of U.S. News & World Report rankings. It has excellent NCLEX pass rates and research credentials. And it's deeply embedded in the UVM Health System. The only sticking point is price—UVM is very expensive (even for VT residents). UVM Medical Center employees may be eligible for a tuition discount—talk to your HR representative.
2. Norwich University
Program: Online RN to BSN
RN to BSN Credits: 33
Length: 18-24 Months
Accepts Out-of-State RNs: Yes
Norwich is one of our top choices for military—it offers a ton of Military & Veterans Financial Aid, including a hefty tuition discount and military scholarships. The 100% Online RN to BSN is built for convenience, with several start dates, a range of practical courses (e.g. Care at End of Life), and an optional fast track into the Online MSN. Career-minded RNs will also be pleased to hear that the School of Nursing has useful clinical affiliations with DHMC and the UVM Medical Center.
Cheapest RN to BSN Online Programs in Vermont
To appear in our Cheapest VT rankings, Online RN to BSN programs had to cost less than $10,000 in total tuition for Vermont residents. Norwich is the most affordable choice in the state, but it's still well-over $10,000. You'll have better luck with CCNE-accredited degrees that appear in our rankings of the Most Affordable Online RN to BSN Programs in the country,
Fastest Online RN to BSN Programs in Vermont
For our Fastest VT rankings, we were looking for Online RN to BSN programs that could be completed in under 1 year/3 semesters. Norwich's degree takes around 18-24 months and UVM's program can run to 3 years on a part-time schedule. If speed is really of the essence, see the 2-semester and self-paced options in our rankings of the Fastest Online RN to BSN Programs in the U.S.
RN to BSN Scholarships in Vermont
Statewide Scholarships for Vermont RN to BSN Students
Vermont Nursing Organization Scholarships
American Nurses Association Vermont (ANA-VT) doesn't appear to offer scholarships, but it never hurts to ask. State nurses associations often have education funds for members! You could also be eligible for:
Vermont Healthcare System & University Partnerships
Do you work for a Vermont hospital or New England healthcare system? Before you apply for any Online RN to BSN program, chat to your HR representative. You may be eligible for all kinds of discounts & reimbursement options (e.g. UVM Medical Center Education Benefits). Vermont hospitals also offer their own scholarships. Examples include:
Vermont Community Foundation Scholarships
University Scholarships for Vermont RN to BSN Students
Norwich University
University of Vermont
RN to BSN Requirements in Vermont
RN Licensure: Online RN to BSN degrees are classified as "post-licensure" programs. Vermont universities will expect you to have—or be in the process of earning—an RN license. For instance:
Norwich wants to see an active & unencumbered RN license on your application form.
UVM is willing to consider candidates who are eligible for the NCLEX, but enrollment is contingent upon successful completion of the exam.
The Vermont Board of Nursing will be able to answer questions about state RN licensure. The Board doesn't post NCLEX pass rates or MSN-level certification pass rates for Vermont programs, but you can always ask the School of Nursing for these numbers. They're a useful quality marker.
State Authorization: Do you live outside of Vermont? Just double-check that you're eligible to apply. Vermont Online RN to BSN programs appear happy to accept out-of-state RNs, but state authorization issues can sometimes get in the way.
Frequently Asked Questions
Are 100% Online RN to BSN Programs in Vermont Available?
Yes. Norwich's CCNE-accredited Online RN to BSN is 100% online, with no campus visits required. You'll still be expected to complete BSN-level practicums in your local community.
UVM's Online RN to BS has a campus component—the course in Health Assessment is offered as a 1-week summer intensive on the main Burlington campus.
Can I Choose a "No Clinicals" Online RN to BSN in Vermont?
No. CCNE-accredited Online RN to BSN programs are going to contain on-the-ground practicums & fieldwork experiences in areas like leadership & community health. For example:
Norwich's 100% Online RN to BSN includes a clinical practicum in Promoting Health in Communities (e.g. community project). The Nursing Capstone also features a leadership project that is undertaken with the guidance of faculty and clinical partners.
UVM's Online RN to BS includes 2 courses with 42 hours of clinical work each. Students work with course faculty to arrange clinical experiences convenient for wherever they live.
Do I Need Statistics to Apply for a Vermont Online RN to BSN?
Probably. We saw it listed as a General Education requirement for UVM and Norwich. If you don't have statistics on your transcript, ask the RN to BSN program coordinator if you can take it as a "co-requisite" while you begin tackling BSN-level coursework.
Are There Any Online RN to BSN to MSN Programs in Vermont?
Not that we could find. Norwich says it will fast track RN to BSN graduates into its Online MSN through an expedited application process, but it doesn't offer a dedicated accelerated RN to MSN pathway.
If you're interested in graduate work, but you need a BSN for employment purposes, have a look at the online offerings in our listings of RN to BSN to MSN Programs. There are plenty of accredited options from public & private universities across the U.S.
What About Vermont Technical College's Online RN to BSN?
We haven't featured VTC's Online RN to BSN in our Vermont guide because it is not CCNE- or ACEN-accredited. VTC voluntarily withdrew its ACEN accreditation in 2020. Feel free to look into it—VTC is well-connected. Just keep in mind that accreditation can be a big deal when it comes to applying for jobs and graduate nursing programs.
Vermont RN to BSN Online Schools
Norwich University
School of Nursing
Northfield, Vermont
University of Vermont
College of Nursing and Health Sciences
Burlington, Vermont