Best RN to BSN Online Programs in Arizona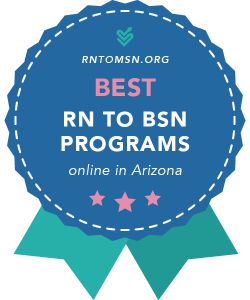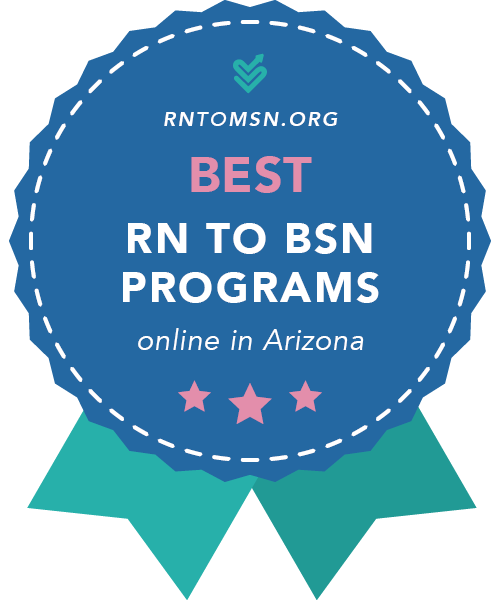 1. Arizona State University
ASU is an easy pick for the Best RN to BSN in Arizona! The university earns excellent rankings for its online bachelor's degrees and graduate nursing programs. The Edson College of Nursing and Health Innovation has useful career connections to the Mayo Clinic, Phoenix Children's Hospital, Dignity Health, and the WHO. NCLEX pass rates are strong. And independent reviews of its nursing programs are absolutely glowing. ASU's 100% Online RN to BSN blends the usual assortment of BSN-level courses with a couple of unusual topics (e.g. Innovation Nursing). Fieldwork is included in Community & Public Nursing—this can be completed in your home area.
Cheapest RN to BSN Online Programs in Arizona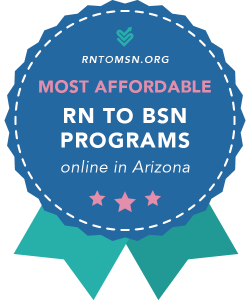 The cheapest way to earn an Online RN to BSN in Arizona is to choose a competency-based/self-paced program and get through the coursework as quickly as possible. If you'd prefer a more traditional, semester-based format, have a look at our rankings of the Most Affordable Online RN to BSN Programs in the U.S. There are plenty of alternative choices!
1. Northern Arizona University
NAU has two models for the Online RN to BSN:
2. University of Phoenix
UoPX also offers two ways to earn the RN to BSN. Tuition is charged on a per credit basis for both programs.
Bear in mind that UoPX is a for-profit school. However, it is regionally & CCNE-accredited. And it offers a tuition guarantee—prices will be locked in for the duration of the program.
Fastest Online RN to BSN Programs in Arizona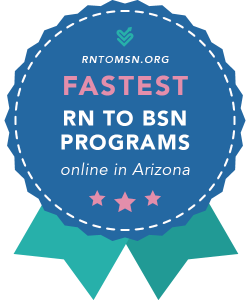 To qualify for our Fastest rankings, Arizona Online RN to BSN programs had to take less than 1 year/3 semesters to polish off. Most AZ plans of study were 12 months or more, but we did find one speedy option. You'll also see it appearing in our rankings of the Fastest Online RN to BSN Programs in the country.
1. Northern Arizona University
NAU has two pathways to the Online RN to BSN:
Note: As we've mentioned, the University of Phoenix also offers an Online RN to BSN (Competency-Based) program. Although you can go at your own pace, UoPX estimates that it might take 1 year to finish the degree (4 courses every 16 weeks).
RN to BSN Scholarships in Arizona
Statewide Scholarships for Arizona RN to BSN Students
Arizona Nursing Organization Scholarships
The first place to look for RN to BSN funding in Arizona is the Arizona Nurses Association (AzNA). It sponsors all kinds of Arizona Foundation for the Future of Nursing (AzFFN) Scholarships, including undergraduate awards.
You may also be eligible for scholarships from group-specific AZ nursing organizations. Examples include:
Arizona Healthcare System & University Partnerships
Are you currently working for an Arizona hospital or healthcare system? Be sure to talk to your HR representative about your education plans. As an employee, you may be eligible for all kinds of benefits, including partnership tuition discounts, tuition reimbursement, loan forgiveness programs, and more. For instance, UoPX offers Partnership Fee Waivers to employees of many regional hospitals.
Arizona Hospital Scholarships
Arizona hospitals also offer their own healthcare scholarships! Some awards will only be open to current employees; others will be available to local residents in the hospital area. Here are just a few examples of what's out there:
Arizona Community Foundation Scholarships
Explore Arizona Community Foundation (ACF) Scholarship Opportunities and Community Foundation of Southern Arizona (CFSA) Scholarships. Although most foundation scholarships will be aimed at recent high school graduates, you will sometimes find awards for continuing learners and current college students.
University Scholarships for Arizona RN to BSN Students
Institutional aid in Arizona is going to depend on the school. Big public universities in Arizona (e.g. NAU and ASU) offer specific nursing scholarships; private Christian schools (e.g. GCU) have RN to BSN scholarships; and for-profit choices (e.g. UoPX) offer partner tuition discounts.
Arizona State University
Grand Canyon University
Northern Arizona University
University of Phoenix
RN to BSN Requirements in Arizona
RN Licensure: Online RN to BSN degrees are classified as "post-licensure" programs. Arizona universities will expect you to have—or be in the process of earning—an RN license. If you still haven't taken the NCLEX exam, you may have a little bit of wiggle room. For example, students currently earning an associate degree in nursing at a regionally accredited college can start pursuing ASU's Online RN to BSN through the Concurrent Enrollment Program.
State Authorization: Do you live outside of Arizona? Just be sure you're eligible to apply. State authorization issues mean that NAU and ASU's Online RN to BSN programs aren't available to RNs in a small number of states (e.g. Tennessee). When in doubt, ask the RN to BSN program coordinator for clarification.
Frequently Asked Questions
Are 100% Online RN to BSN Programs in Arizona Available?
Yes. The vast majority of Online RN to BSN programs in our Arizona listings are 100% online, with no campus visits required. NAU's Online RN to BSN offerings include a Health Assessment for RNs Practicum with clinical lab, so you may want to check if you need to complete that lab on-campus.
Can I Choose a "No Clinicals" Online RN to BSN in Arizona?
Not really. Because of accreditation rules, CCNE-accredited Online RN to BSN programs almost always contain a clinical/practicum component. Fortunately, BSN-level clinicals often focus on training in community health & leadership. And they can usually be completed in your local community and/or place of employment. For example:
Do I Need Statistics to Apply for Arizona Online RN to BSN Programs?
Possibly. We saw statistics listed as a prerequisite for ASU and NAU, but other Arizona programs may be more flexible. For instance, GCU's 100% Online RN to BSN includes Applied Statistics for Health Care Professionals as part of the core RN to BSN curriculum. If you don't have stats on your transcript, ask the RN to BSN program coordinator if you can take it as a "co-requisite" while you start your RN to BSN coursework.
Are There Any Online RN to BSN to MSN Programs in Arizona?
Yes. GCU's Online Fast Track MSN option will allow you to earn a BSN and MSN within 30 months. You'll complete two graduate-level courses from your chosen MSN emphasis as electives in the BSN. GCU offers multiple MSN specialties.
Feel free to compare GCU's program with other online offerings in our listings of RN to BSN to MSN Programs—we cover every state.
Note: UA and NAU offer Online RN to MSN Programs in Arizona, but these pathways don't appear to include the BSN as part of the program.
What Should I Know About For-Profit Schools in Arizona?
First off, all of the schools in our Arizona Online RN to BSN program listings are a) regionally accredited by the HLC; and b) CCNE-accredited. So you shouldn't have any issues with accreditation later down the track. However:
As always, brick & mortar universities with reputable Schools of Nursing will have the most credibility in the job market.
Arizona RN to BSN Online Schools